Update: The auction for this Action Comics #1 CGC 8.5 has resumed today due to a website glitch at auction close. See update for details.
Update 2: With the auction now final, the hammer price on the sale of this Action Comics #1 CGC 8.5 is $2,052,000. Original post continues below:
---
An Action Comics #1 CGC 8.5 (white pages) has just sold for $2,007,500 at Comic Connect auction. The closing price for the 1938 comic, featuring the first appearance of Superman by Jerry Siegel and Joe Shuster, is the third highest price ever paid for a comic book, behind the $3,207,852 sale of an Action Comics #1 CGC 9.0 in 2014, and the $2,161,000 sale of a different copy of Action Comics #1 CGC 9.0 (the Nicolas Cage copy) in 2011.
Notably, as Bleeding Cool told you in 2016, both of the CGC 9.0 copies are part of the Impossible Collection of high-grade vintage DC comics, owned by serious DC Comics fan and Vero co-founder Ayman Hariri. The CGC 8.5 copy which sold tonight is currently the third highest-graded unrestored copy on the CGC census, behind the two 9.0 copies.
In addition to being the third comic book sale to break the $2 million barrier, tonight's result becomes the seventh sale to surpass $1 million. The million dollar comic book club now includes:
Action Comics #1 CGC 9.0 for $3,207,852 in 2014
Action Comics #1 CGC 9.0 Nicolas Cage copy for $2,161,000 in 2011
Action Comics #1 CGC 8.5 for $2,007,500 in 2018
Action Comics #1 CGC 8.5 for $1,500,000 in 2010 (same copy as the current 2018 sale)
Action Comics #1 CGC 8.0 for $1,000,000 in 2010
Amazing Fantasy #15 CGC 9.6 (first appearance of Spider-Man) for $1,100,000 in 2011
Detective Comics #27 CGC 8.0 for $1,075,000 in February 2010
Incredibly, even at $2,007,500, it's hard to view this sale as anything other than an outstanding deal for the buyer. With the top two CGC-slabbed copies both owned by one very serious DC collector who likely won't be selling them any time soon, this CGC 8.5 copy could well be the best copy to become available on the market for a very long time.
That's an exciting start to this week's Event Auction at Comic Connect. I've already got some other interesting results from tonight's session to catch up on, so check back shortly for the latest results and analysis.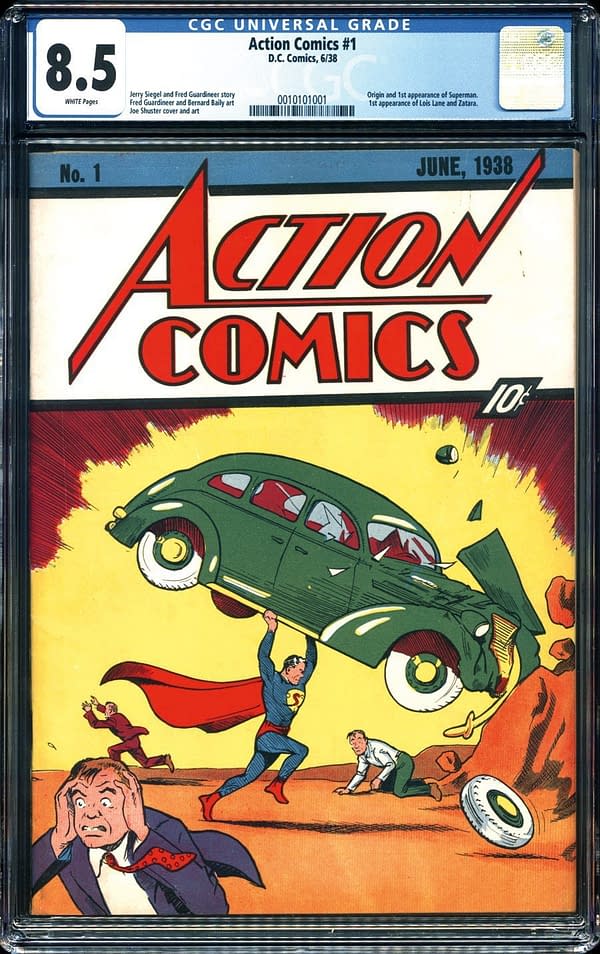 Enjoyed this article? Share it!