A Walk Through Hell #2 Review: Chilling Imagery and Unnerving Themes
[rwp-review-recap id="0"]
McGregor and Shaw awaken in the warehouse they entered at the end of last issue. They passed out mysteriously, and the woke up to both no longer having pulses despite clearly being alive. Then they hear muted gunshots and dropping cartridges. They investigate only to find a more shocking development. We also see flashbacks to a previous case McGregor and Shaw investigated.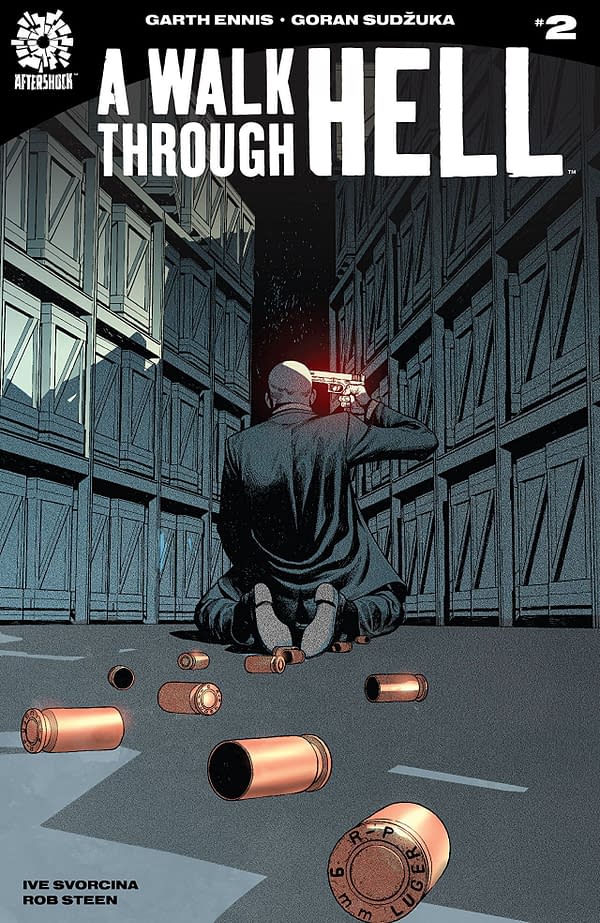 A Walk Through Hell #2 manages to one-up the previous issue in terms of shock and macabre imagery. It doesn't just show the horrific scene and let it drop either; the comic lingers and tries to make sense of what it has shown.
This book also keeps returning to themes of politics and, specifically, the 2016 election — though it never says any names, nor does it even specify the year. It would be interesting if tied into the main story to some capacity; as it is, it comes off as non-sequitur commentary.
We learn more about the characters of McGregor and Shaw in this issue too. They came off as passively cold in the first issue. Shaw mostly remains, though it is acknowledged more. McGregor is the more shaky and opinionated one, and he is more prone to emotional outbursts.
The comic overexplains a theme in a manner that doesn't seem to have faith in the audience to pick up the recurring element towards the end of the book, but this is the only real flaw in the comic.
Goran Sudzuka's artwork continues to carry the comic well, and his shading-heavy style reinforces the horror elements very well. Expression is simplistic and easy to read, which is a nice trait. The gore is shockingly detailed, which is appreciated in my morbid kind of way. Ive Svorcina covers the color art, and it is a darker palette that is balanced out by the brighter flashbacks. It's atmospheric and looks good.
A Walk Through Hell #2 is another chilling installment to this horror series. The characters are interesting, the themes are strange and unnerving, and the imagery is delightfully horrific. Garth Ennis continues to show he is a force to be reckoned with in the comic scene. This one earns a strong recommendation. Give it a read.
[rwp-review-ratings id="0"]
[rwp-review-form id="0"]