So. An hour ago, Bleeding Cool ran an unaired clip from tomorrow night's The Jonathan Ross Show, in which Bryan Hitch got to meet Samuel L Jackson, the man he made Nick Fury in The Ultimates all of seventeen years ago. Hell, we'll run it again below, it's a really cool clip, and Brie Larson seems just as keen as Jackson is. We'll run it again, below.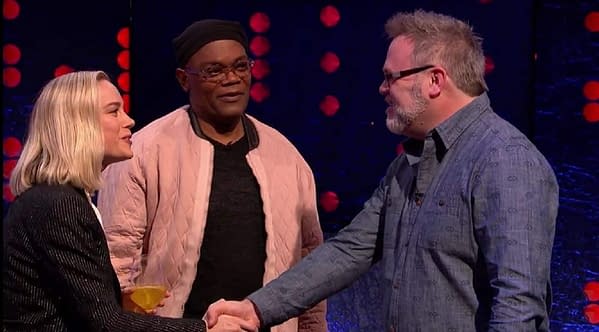 At the end of the clip, Jonathan Ross talked about how Bryan Hitch was now working on Batman. Did he make a slip and mean Hawkman instead?
Probably meant Hawkman.

— BRYAN HITCH (@THEBRYANHITCH) March 1, 2019
Good use of the word probably there. I'd already started asking around – sometimes all you need is a thread to pull.
And I have been told from multiple sources that, indeed, not only is Bryan Hitch drawing a Batman comic book for DC Comics, but that Warren Ellis is writing it.
Hitch and Ellis teamed up for Stormwatch, then The Authority, twenty years ago and changed the American superhero comic book forever. Popularising what became known as 'widescreen' decompressed intelligent action comics to the fore, they inspired everything from Marvel's Ultimate line, to the revived New X-Men books, to the revamped Justice League, with pretty much every superhero comic either trying to copy what they did or react against it. And arguably it's where the Marvel Studios movies began, in terms of concept.
Recently, they reunited for a celebratory new Authority story for the 25th Wildstorm Anniversary project from DC Comics – itself rather late. Could working together have reunited that spark and found common cause in Batman, currently celebrating his 80th year as a comic book character? Perfect timing for an Ellis/Hitch/Batman get-together…
It's not confirmed of course. No press release yet. And things can always change. But I'd put money on it. Here's how Bryan Hitch draws Batman, which was used as the cover for a Batman Annual last year…
just cos. Batman in the rain. pic.twitter.com/IVsy6esxCj

— BRYAN HITCH (@THEBRYANHITCH) July 24, 2018
And let's watch that unaired clip from tomorrow's Jonathan Ross Show again. It's really good.
Enjoyed this article? Share it!