"We'll Be Seeing A Bona-fide Super Villain…" – Frank Barbiere Talks Solar: Man Of The Atom
This month we see the seventh issue of Solar: Man of the Atom hit the stands and next month the first trade collecting issues 1-6 will be released. Frank Barbiere has been at the helm of the series since day one and he sat down to talk with Byron Brewer about where Solar has been and where she is going. BYRON BREWER: It must be difficult to be Erica. How does she return to "normal life" after experiencing the universe?
FRANK BARBIERE: This is exactly what we'll be dealing with in our new arc. Our second arc has been all about Erica finding her place in the universe and how to use her powers…but while she's been gone, things have been going on on Earth that are going to affect her family in huge ways. On top of that, she needs to return home and be "normal" again…something that is going to be pretty difficult after flying around and fighting aliens for the last few weeks.
BB: Will Dad continue to be a major part of this book?
FB: It is very much Erica's story, but Phil is a huge part of that. As her mentor (of sorts) he'll have a big role to play, and certainly has a lot of lost time to make up for. Seeing their relationship grow and change is a big hook of the book—can being a superhero mentor make up for being a terrible father? Let's find out. BB: When will all this evil-doing by Erica's brother rear his ugly head? (And I had such high hopes for his character we he was first introduced …!)
FB: We are definitely going to get to Colin now that we're back. He's not evil, per se…he definitely has his own agenda and we haven't revealed what he's all about quite yet. We did see that he also has powers at the end of the first arc, so we'll definitely be returning to that story thread (and seeing how it's grown while Erica and Phil have been away!).
BB: Now that we are back on Earth, will we be seeing some Gold Key variety super-villains, or are more aliens in store for our daughter/father dynamic duo?
FB: We'll be seeing a bona-fide super villain coming into the fray very soon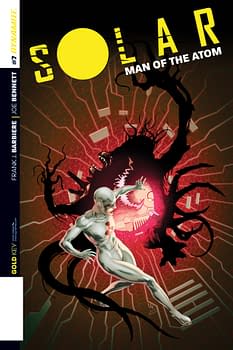 BB: Animal adoption coming into the storyline? We are not gonna get Solar Dog, I hope??
FB: Haha, not quite. We're going to have some fun with Erica's affinity and connection with animals, but not to "Solar Dog" levels.
BB: What former project of yours can you compare Solar to, Frank?
FB: It's honestly like nothing I've ever approached. I'm so happy with the book and it's very much become a unique project for me. It's great to have the space to explore a long form character piece like this…and of course, superhero stuff as well. For me it's all about learning who Erica is and how her personality shapes her destiny as Solar.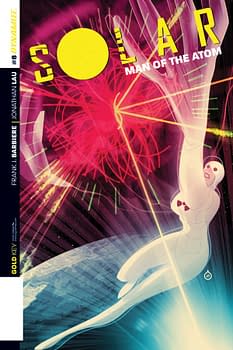 BB: What do you think of artist Jonathan Lau's work in these pages?
FB: Jonathan has been nothing short of a revelation. His work is really defining the look of our run on Solar, and I can't wait for readers to see more. He's a great talent and it's an honor to have him on board!
BB: Will we be seeing more of Solar's family as time goes on? That IS part of the heart of this tale.
FB: Absolutely. Again, this new arc is really going to bring things to a head and we'll get all of our Earth characters we left behind in full effect.
For more on Solar: Man Of The Atom, click here.