"What's A Little Vampirism, Here Or There?" – Nancy A Collins Talks Vampirella
Paul Tobin, writer of KING: Jungle Jim #1, talks with writer Nancy Collins about Vampirella #9, both on sale February 4th.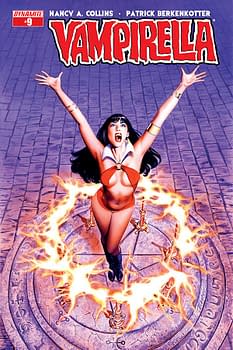 PAUL TOBIN: So… vampires. A lot has been written about why they're so ingrained in the public consciousness, but, enough with the other people, why do you yourself like them, and what do you feel makes Vampirella unique in the vampire mythos?
NANCY COLLINS: As I've said before in other interviews over the years, vampires are handy archetypes because they are monsters that not only look like us, but used to be us. They can represent the dark, exploitative, and predatory aspect of human nature, as well as the romantic. The vampire can easily lend itself to social, religious, sexual, and political metaphor and allegory, and depending on the writer and the point of view can be portrayed as unrepentant fiends, charismatic antiheroes, or misunderstood Byronic heroes, and can be used in any time period you choose. As for Vampirella, she is unique in that she was actually the first female vampire—hell, she might be the first vampire, period—to have her own comic book. She was also the first vampire in comics designed to be the hero, not the monster.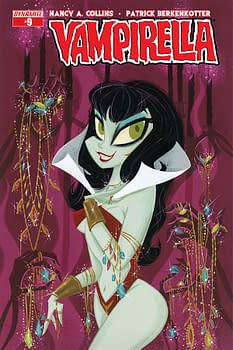 TOBIN: Would you be friends with Vampirella? If she called you and said, "Hey Nancy! I'm at a cabaret only two blocks away. Come have drinks with me!"… would you go?
COLLINS: Sure, I'd be friends with her. I used to hang out with a voodoo priestess and the Coney Island Sideshow's Tattooed Man, back in the day. What's a little vampirism, here or there?
TOBIN: For your Vampirella, what's her goal? Just to survive? To fight evil? To save the innocent? What gives her the most satisfaction?
COLLINS: For the most part, Vampirella's interest is in protecting humanity and trying to get rid of the evil her mother unleashed upon it, millennia ago. She's also trying to find a purpose for herself, now that her life has been upended yet again. She was raised to kill vampires and other monsters—it's pretty much all she knows how to do. Monster Hunter is a fairly narrow job description. I have her transitioning from one covert group to another—going from the Vatican's version of MI-6 to The Kabal, which is run by monsters attempting to police their own.
TOBIN: Of all the "classic" monsters, which would you say is your current favorite? Has that changed over time? COLLINS: I flip back and forth between the wolfman and the vampire, and occasionally the Frankenstein Monster. When I was a little kid, I was way into the wolfman. As a teen, I was more into Dracula, etc. But as I've grown older, I've come to appreciate the pathos behind Frankenstein's Monster—especially as portrayed by Boris Karloff.
TOBIN: How do you juggle all your projects, and… just as importantly… how do you resist the urge to barrel full speed into new projects? Are you, like most authors, filled with ideas that need to get out?
COLLINS: Pacing myself can be problematic at times. There's nothing more maddening than coming up with a really good idea for a new story while in the middle of another one you're already writing. It's really tempting to wander off and explore the new idea instead of finish the story at hand. I always end up feeling guilty about it, though, because it's kind of like cheating on your spouse. Oh, yeah—I've got plenty of ideas and stories aching to be told. To be honest, I've been extremely surprised at how easy it has been for me to write for Vampirella. She's provided a wealth of inspiration. I look forward to continuing to expand her universe.
For more on Vampirella #9, click here.