Since the greatest mutant ever, Cyclops, returned from the dead in Uncanny X-Men Annual #1, he's had a bit of a problem trusting people. When it comes to Captain America, who led the Avengers in an invasion of Utopia during Avengers vs. X-Men with the purpose of imprisoning a teenage Hope Summers on the moon for future crimes she might commit under the influence of a bird-themed cosmic death god (never forget!), it's totally understandable. So when Cap tries to get Cyclops to hand over more prisoners in this preview of Uncanny X-Men #16, Scott plays things close to the vest…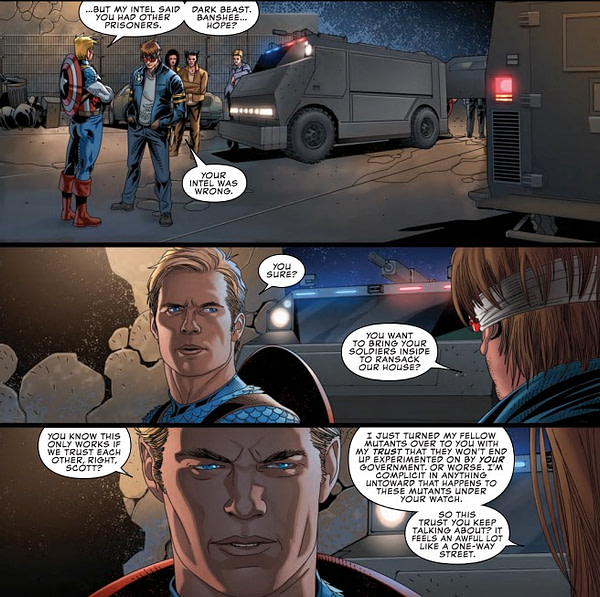 But Havok disagrees once Cap leaves, wondering why Scott would go out of his way to protect Hope, and, even more strangely, Dark Beast.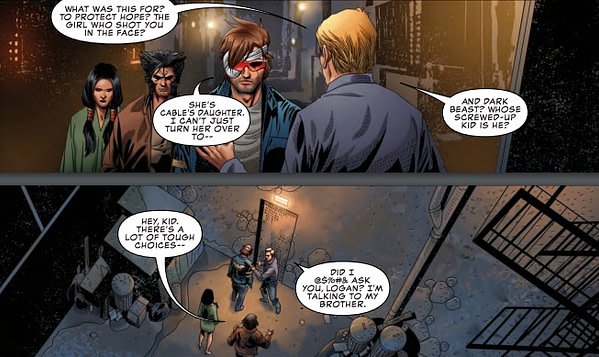 But what really irks Havok is the fact that Cyclops seems to only take advice from Wolverine, his onetime rival.
Remember though, Wolverine sided with the Avengers over the X-Men before he died and came back to life, so maybe Scott should be a little bit more careful.
Uncanny X-Men #16 is in stores Wednesday.
Uncanny X-Men #16
(W) Matthew Rosenberg (A/CA) Salvador Larroca
Cyclops and the X-Men have set out to save mutantkind…but the Mutant Liberation Front isn't going to just wait for it to happen! Led by one of the X-Men's own, the MLF is willing to do whatever it takes to stop mutant oppression…even kill any mutant who stands in their way…
Rated T+
In Shops: Apr 17, 2019
SRP: $3.99