Wondercon '15 – The Writers Journey – 'Finish What You Start'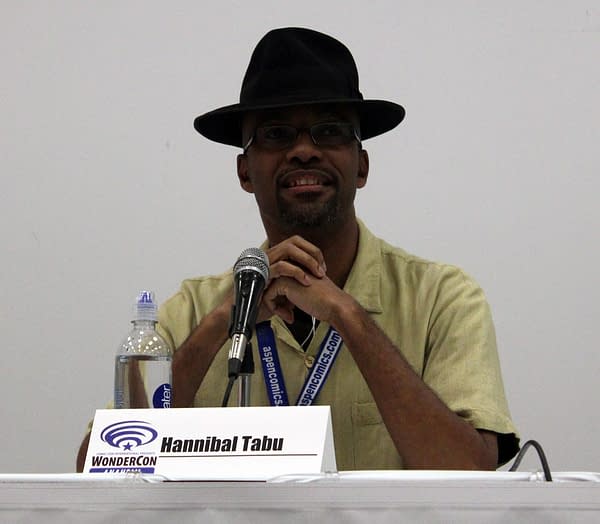 By Michele Brittany, West Coast Bleeding Cool Correspondent
Moderator and host Eisner nominee Brandon Easton, who has worked on ThunderCats and the Andre the Giant biography, assembled a knowledgeable group of individuals to share their experiences in the panel titled The Writer's Journey: Breaking into Comics and Hollywood Scriptwriting. Joining Easton was Tony Puryear (Concrete Park, the film Eraser), Erika Alexander (Concrete Park, Living Single), Marc Zicree (science-fiction author, Space Command), and Hannibal Tabu (Soulfire, Watson & Holmes).
Easton started the hour appropriately enough with comparing breaking into the industry to be like a war zone and that having reliable intel was the key to success. He presented several talking points.
Finish What You Start. And, do what you say you are going to. Both Zicree and Puryear stressed the importance of also having a mentor, who has experienced the road that you yourself want to travel. In addition, it is important to find a mentor that will be hard on you when needed. Picking up on the initial talking point, Alexander explained how an unfinished project can be detrimental to a person because they carry the weight of it around with them. So, she said put a deadline in place, get it done, then move on to the next project. Getting the project done will provide a boost to one's confidence.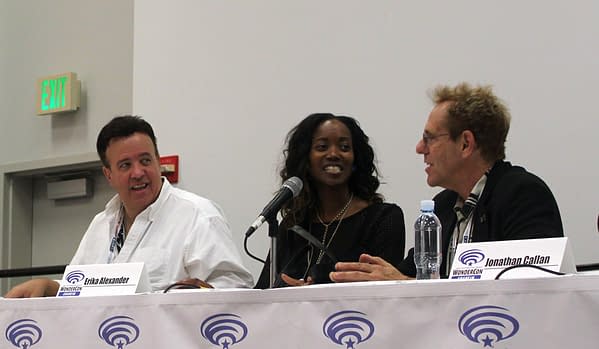 Easton mentioned four websites for those in the audience interested in writing comics and/or scriptwriting. Those resources included: simplyscripts.com, tvwriterpodcast.com, wga.com, and Writer's Guild Foundation. He also added Comic Book Database.
Writing programs are great opportunities and the timing could not be more fortuitous. Several programs have entry deadlines coming up. Easton suggested audience members take a look at Audience Strategy, CBS, WB Writers Workshop, Disney Writer's Program, and Writer's on the Verge.
Zicree stated that the image of the Hollywood industry is perceived as difficult and negative for newcomers, however he revealed there is a cross-section of individuals who still work towards finding their authentic voice in their writing; it is not about trying to get rich. As Zicree suggests, "be an agent of change."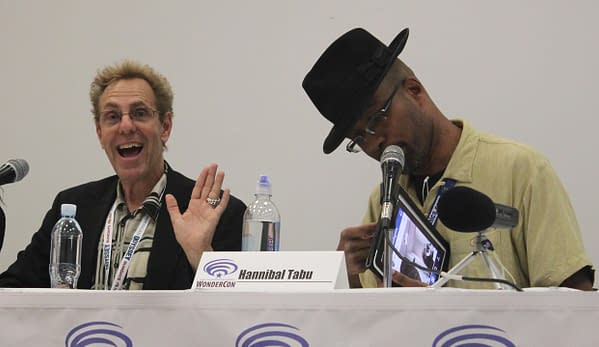 Another talking point asked how to approach the transmedia marketplace. Easton provided four steps: (1) creative a brand new property; (2) write several short stories that explore that world; (3) make those stories available as e-books; and (4) create print versions for events, such as cons. Zicree said he wrote books and then got into audio books, so that his work would be stocked in multiple locations of a bookstore. Easton said this method does work: George RR Martin used this method and Wildcards (1989) was the result.
"What's the goal?" was another talking point for the panelists. Zicree shared that many years ago he knew he wanted to have his own show. He thought about what was the most direct route to that goal. He said it would be to remove the middleman – studios and producers – Space Command was the result, via a very successful Kickstarter. Puryear related that he found there were doors closed to him, so he found ways around them. And, he proved it is never too late to learn and try something new: he learned to draw comics at the age of fifty and now he has the successful comic book series Concrete Park.
Resumes are not enough in this "post content era" according to Easton. To break in, it's now about having a spec script at the ready. Tabu said that "work begets work" so he said that he tries to over perform with each task, essentially to step up his game and go above and beyond. Puryear concurred, relating he had a 56-page comic prepared and it made the difference. Alexander provided another way of thinking of it: that extra work you do that now will result in additional projects and scripts. Those become "real estate" and have value. Sometimes it may take some time before that the right person realizes that value at the right time.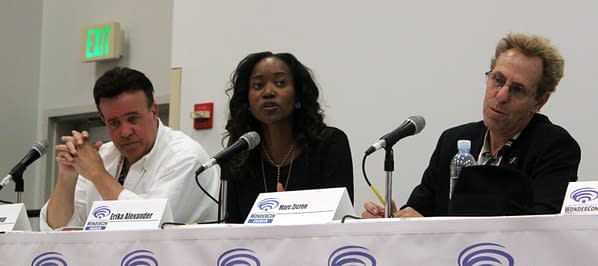 As the hour came to a close, Easton provided the last talking point: your attitude. He asked each panelist what project had given him or her joy. Tabu said it was when a Watson & Holmes issue came back just as he had originally conceived it; Zicree when two of his episode scripts were filming the same week; Alexander who put a spec script on her blog, it went viral and opened doors for her; Puryear, joy from a story he structured around limited locations; and Easton, who felt validation as a writer after he was accepted to a writing program.
Michele Brittany is an independent popular culture scholar and semi-professional photographer and editor of James Bond and Popular Culture: Essays on the Influence of the Fictional Superspy (McFarland & Company). She regularly posts reviews and analysis on the spy/espionage genre on her blog, Spyfi & Superspies and can be followed at Twitter @mcbrittany2014.