Thirty-Three Thoughts About Thirty-Two Comics – Painkiller Jane, Captain America, Batman/Superman, Batwing, Green Arrow, Mighty Avengers, The Movement, Superman Unchained, Red Sonja Legends, Detective Comics, Action Comics, Iron Man, Longshot, The Star Wars, Victories, East Of West, Amazing X-Men, Ten Grand, Spawn, Grindhouse, Occultist, Fatale, Uber, Absolution, Drumhellar, Alex + Ada, Baltimore: Infernal, Cobra Files, Dark Cybertron, Morning Glories And Classic Dredd
Welcome to the most popular weekly column on Bleeding Cool. You keep reading it, I'll keep writing it! So, what's happening in today's comics (with a bunch of peeks you won't find elsewhere).. and we start with a little bit of politics. Captain America gives us a nice summary of US government policy over the last few years. You know, I was just reading about the current state of Egypt before this morning's comics. Not far off…

Okay, so Bleeding Cool readers probably know the identity of Spider-Hero in Mighty Avengers at this point. But it does give you a rather fun experience meta-reading this kind of exchange. The Movement moves into exorcism. What kind of dangers could it summon forth? The spirit of Chuck Austen there, in Amazing X-Men. Ten Grand takes its own trip into the afterlife, but it gets a little more sweary. I find such a Peter Capaldi-type voice on the Grim Reaper to be strangely comfortable. But does anyone really care? Well, thank you Batman, appearing in his earliest days in Batwing. A caring sharing Batman then, it seems, not one to be scared of. Until you look in the Green Arrow Zero Year issue and get… Criminals are a superstitious and cowardly lot apparently.

Superman gets one new ability in Superman Unchained #4… And another in Batman/Superman #4. Gotta catch 'em all! That's right, Red Sonja of the new Legends Of Red Sonja #1, you bite that creature's tentacle, you bite it hard, you don't even consider any of the suggestion that might come along with it! I've always thought that Bruce Wayne would have done a better job funding the police, cleaning up the corruption and maybe investing in Gotham's education so kids don't grow up with only Arkham Asylum as a life prospect. Detective Comics #25 doesn't so much make the case for the opposition to that – but it does have a hella cool origin of the Bat Signal.
Oh and sticking with Detective Comics ( a really entertaining issue by the way…) There does seem to be a lot of split panel jumping off old big city bridges in the rain today. Thank you Spawn. Painkiller Jane suffers a wardrobe malfunction in mid-missile attack in this quite glorious return of the old Event Comics character to Marvel Comics' Icon imprint. Funny, violent, and the kind of action adventure that challenges the budgets of most action dramas, courtesy of writer Jimmy Palmiotti. You know who he's married to, right? Alex De Campi! How could you! Grindhouse #2 continues its campaign of shock'n'awful things to tickle the senses. Talking of which… Yack, East Of West. Just, yack. Seriously, there needs to be more calcium in that. I mean, there's no danger of iron deficiency, but come on. Breast is best, isn't that right, Painkiller Jane? Oh and that's the Occultist #2 there. I think I could cope a lot more with rabbits screaming.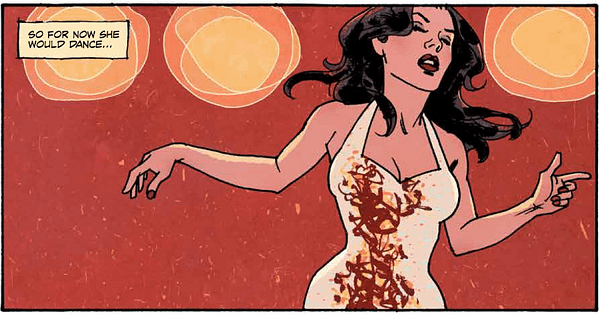 Very nice, Fatale, but what happens when you dance too hard? No, no, that's just Uber #7 there, as the Japanese get all superpowered up and start looking all Akira on us. Though not as much as Bleeding Cool owner Avatar Press' other stablemate this week.
That's quite a Neo Tokyo explosion in today's Absolution: Rubicon, no? "Mummy, can I have a bog man from Drumhellar #1, also launching from Image Comics today?" I'll be really good and won't ask for anything else ever again… Apart from all the future tech in Alex + Ada obviously. No sign of jet packs but there is lectronic telepathy, thought-sensitive devices and hovering robots. And a trip into the kind of territory that the latest series of Black Mirror mined so well in its first episode. You know that website Superdickery? I think they just have a new entry, from Action Comics #25. Superman? What a dick. From Iron Man #18, possibly the line of the week. I might go and register the domain name starksplaining.com right now… it's bound to be a hit. GReat comic as well, giving us the Iron Men of 2043. But, you know, Tony Stark has met Iron Man 2020 before, he knows that Arno Stark, does he really not suspect anything from his similarly named brother? Ms Nocenti there, the co-creator of Longshot, now working for DC Comics gets a nice mention in Longshot Saves The Marvel Universe. I do hope she approves… Stormtroopers in The Star Wars #3 seem pretty much of the same mind as the Stormtroopers in the final Star Wars scripts. Nazis the lot of them. And how do we deal with Nazis? Victories #6 has a more energetic solution. In Baltimore: Infernal #3 we get the need for all peg legs to also function as pointed stakes.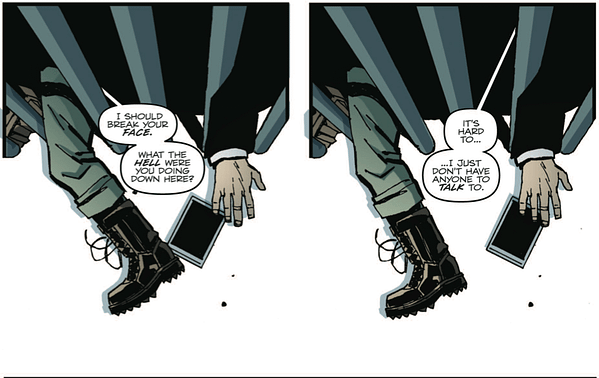 GI Joe: Cobra Files #8 gives us the loneliness of the long distance GI Joe operative.

Transformers: Dark Cybertron #1 shows us what happens when you get too close to Goat.se. If you don't know what that is, go and google goat.se with the Safe Filter off…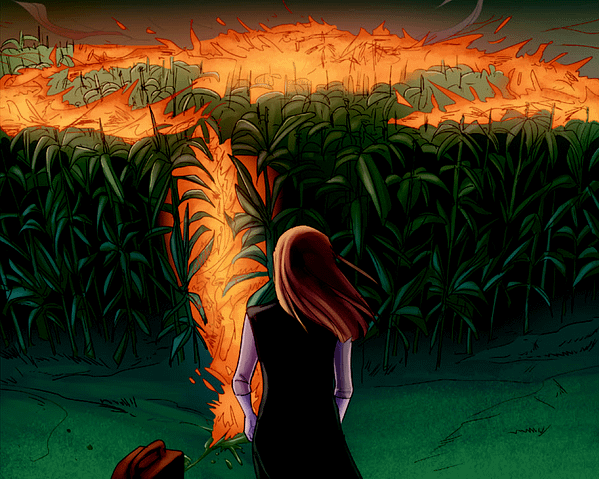 Morning Glories brings us the fire in this beautiful green/orange contrast, that stems from the colour of the hair. But what kind of message is she sending? Or, courtesy of Dredd Classics #5, could it be a response?
Share your thoughts about this week's comments in the comments below. I'll dive in a bit later… tell me what you found today.
Comics courtesy of Orbital Comics, London. Currently exhibiting the Fables work of Mark Buckingham, tonight launching the graphic anthology Brighton, and tomorrow evening hosting a conversation with Blue Is The Warmest Color's Julie Maroh.