With the Hicklaunch fast approaching, Marvel is ramping up its X-Men publishing program, releasing two new X-Men Milestones collections announced in their August solicitations, collecting two classic X-Men Crossover events. First on the list is X-Men Milestones: X-Tinction Agenda, collecting the 9-issue series that ran through Uncanny X-Men, New Mutants, and X-Factor which saw many X-Men abducted by the nation of Genosha, under the control of a terrifying Cameron Hodge, or to be more precise, the severed head of Cameron Hodge, chopped off previously by Archangel, but unable to die thanks to a deal with a demon. The crossover represented the end of an era for the X-Men, as both Chris Claremont and Louise Simonson would be gone from the franchise soon, the New Mutants would be rebooted as X-Force, and X-Factor would change dramatically with a new creative team and new roster.
Also coming from the Milestones collection is Inferno, featuring the culmination of storylines in Uncanny X-Men, New Mutants, and X-Factor, as Madelyne Pryor becomes the Goblin Queen and New York City is overrun by demons. Of course, it would have been nice if that collection included a little of the aftermath, as Magneto's meltdown in New Mutants #75 is perhaps our favorite scene featuring the Master of Magnetism.
Also featured in Marvel's August solicits is a collection of early post-Claremont era X-Men comics, Scattershot, though this one is not part of the Milestones collection. Not only had Claremont and Simonson been driven off the books by the incompetence of Bob Harras (still ruining comics today all these decades later) and his catering to the superstar artists of the era, but those artists had also f***ed off to start Image Comics by this time, leaving Marvel in quite a tough spot. In their wake, however, came the rising stars of Fabian Nicieza, Scott Lobdell, Andy Kubert, Greg Capullo, Jae Lee, Joe Quesada, and more.
Check out the solicits below.
X-MEN MILESTONES: X-TINCTION AGENDA TPB
Written by CHRIS CLAREMONT & LOUISE SIMONSON
Penciled by RICK LEONARDI, MARC SILVESTRI, JIM LEE, ROB LIEFELD, GUANG YAP, JON BOGDANOVE & MORE
Cover by JIM LEE
ON SALE SEPTEMBER 2019
The biggest and best adventures of Marvel's mighty mutants — these are the X-Men Milestones! The X-Men, New Mutants and X-Factor are targeted for X-Tinction! To rescue a friend, the X-Men must invade the mutant-enslaving island nation of Genosha — but the Genoshans' memories are long, and their revenge will be terrifying! As the Magistrates strike, X-Factor and the New Mutants are drawn into the conflict — and they soon discover old foe Cameron Hodge powered up and pulling the strings! The three X-teams are kidnapped, brainwashed, stripped of their powers and forced into combat — and at least one among them will die! Can the powerless X-Men triumph over the military might of an entire nation? And when the dust settles on this classic crossover, will the X-universe be changed forever? Collecting UNCANNY X-MEN (1981) #235-238 and #270-272, NEW MUTANTS (1983) #95-97, and X-FACTOR (1986) #60-62.
328 PGS./Rated T …$34.99
ISBN: 978-1-302-91968-9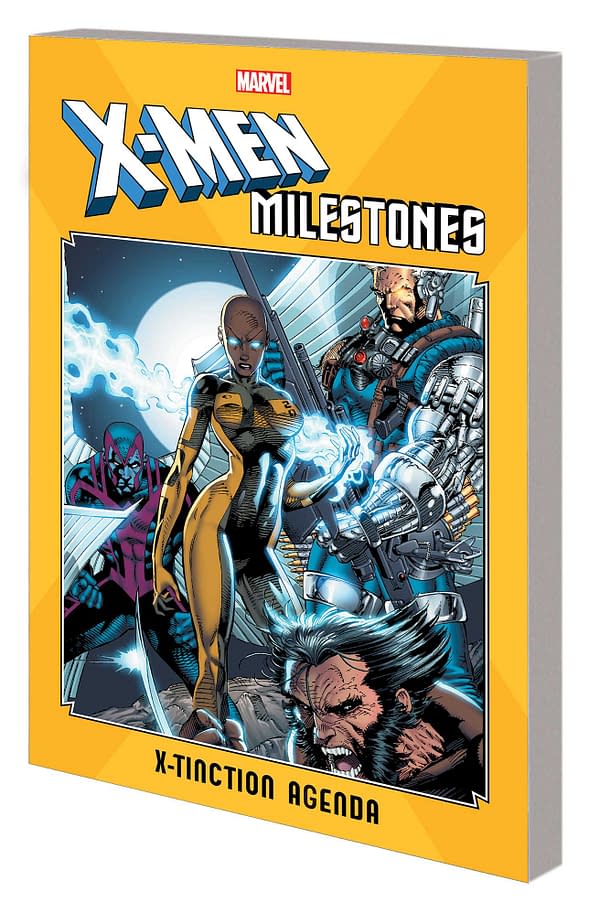 X-MEN MILESTONES: INFERNO TPB
Written by LOUISE SIMONSON & CHRIS CLAREMONT
Penciled by JON BOGDANOVE, MARC SILVESTRI,
TERRY SHOEMAKER, WALTER SIMONSON & BRET BLEVINS
Cover by MARC SILVESTRI
The biggest and best adventures of Marvel's mighty mutants — these are the X-Men Milestones! Strike the match…fan the flames…and light the Inferno! Limbo's demon lords corrupt two of the X-Men's nearest and dearest — Colossus' sister, Illyana Rasputin, and Cyclops' wife Madelyne Pryor — and use them to bring a horde of demons raining down on New York City! But as Illyana battles to regain her soul, Madelyne threatens to cast a spell that will merge Earth and limbo permanently — with the sacrifice being her own innocent son! And when Mister Sinister brings his own agenda into the mix, secrets are revealed that rock Cyclops to the core! The X-Men, X-Factor and New Mutants face their most harrowing ordeal ever — with the fate of the world in the balance! Collecting X-TERMINATORS #1-4, UNCANNY X-MEN (1981) #239-243, X-FACTOR (1986) #35-39 and NEW MUTANTS (1983) #71-73.
496 PGS./Rated T …$34.99
ISBN: 978-1-302-91970-2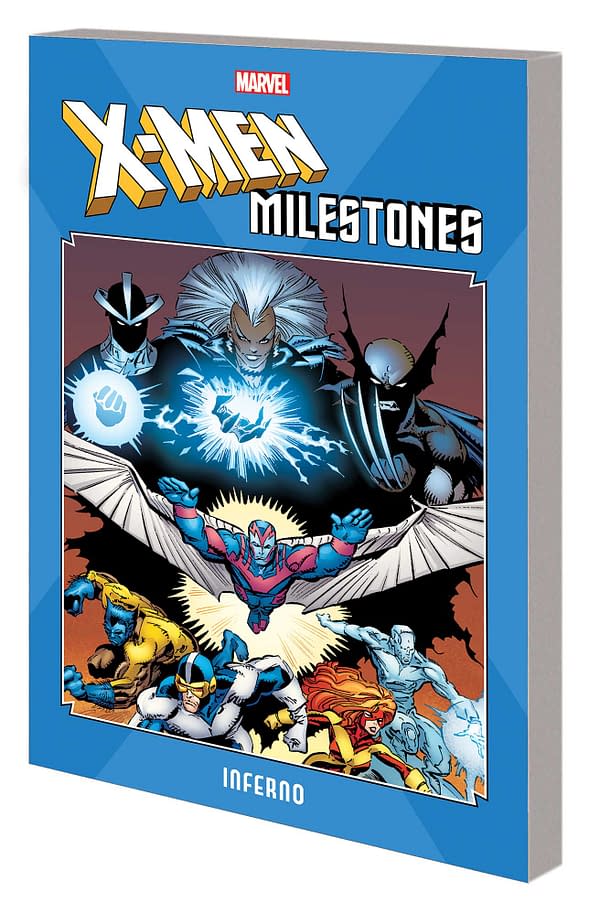 X-MEN: SHATTERSHOT HC
Written by FABIAN NICIEZA, SCOTT LOBDELL & MORE
Penciled by ANDY KUBERT, BRANDON PETERSON, JAE LEE, JOE QUESADA, GREG CAPULLO & MORE
Cover by JIM LEE
ON SALE DECEMBER 2019
When Arize of Mojoworld sets out to free his dimension, the resulting mayhem draws in the X-Men and X-Factor — and the X-Force of the future! But what does it have to do with Longshot and Shatterstar? Then, the X-Men travel to Russia to visit Colossus' parents — and his sister, Illyana! But will the villainous Soul Skinner bring tragedy to Colossus' doorstep? Meanwhile, Betsy Braddock returns! But if Betsy's back, who is Psylocke? The X-Men head to Japan for answers! And while Cyclops learns of a deadly new disease threatening mutants, Gambit and Rogue face a challenge of the heart. Plus: Learn the X-Mansion's secrets in a fact-packed guidebook! Collecting X-MEN (1991) #17-24, X-MEN ANNUAL (1992) #1-2, UNCANNY X-MEN ANNUAL (1992) #16, X-MEN: SURVIVAL GUIDE TO THE MANSION, X-MEN ANNIVERSARY MAGAZINE and material from X-FACTOR ANNUAL #7 and X-FORCE ANNUAL (1992) #1.
616 PGS./Rated T …$75.00
ISBN: 978-1-302-92068-5
Trim size: oversized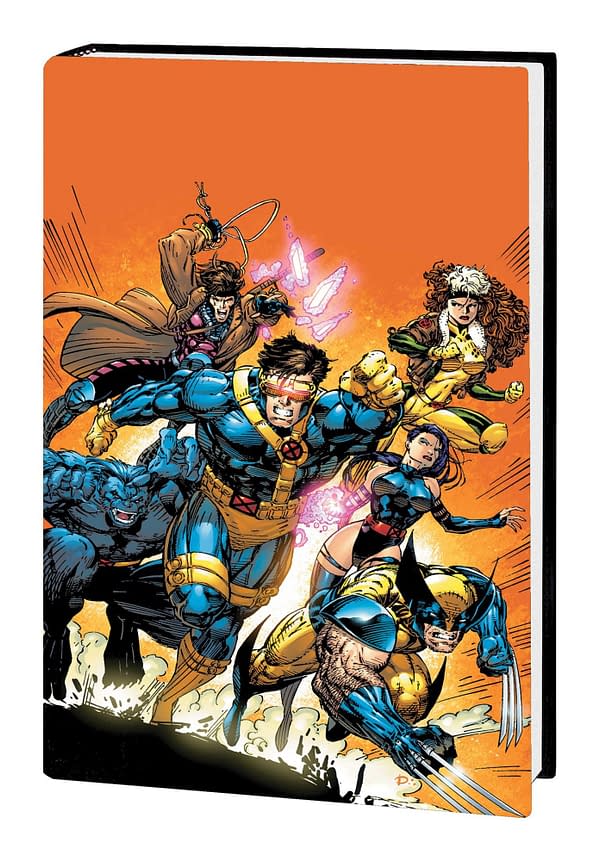 Enjoyed this article? Share it!