Magnus: Robot Fighter is part of Dynamite's revival of the Gold Key characters along with Turok, Solar and Doctor Spektor. Fred Van Lente is at the helm of the series and unlike the other three titles, this one is getting a special #0 issue in honor of Dynamite's 10th Anniversary.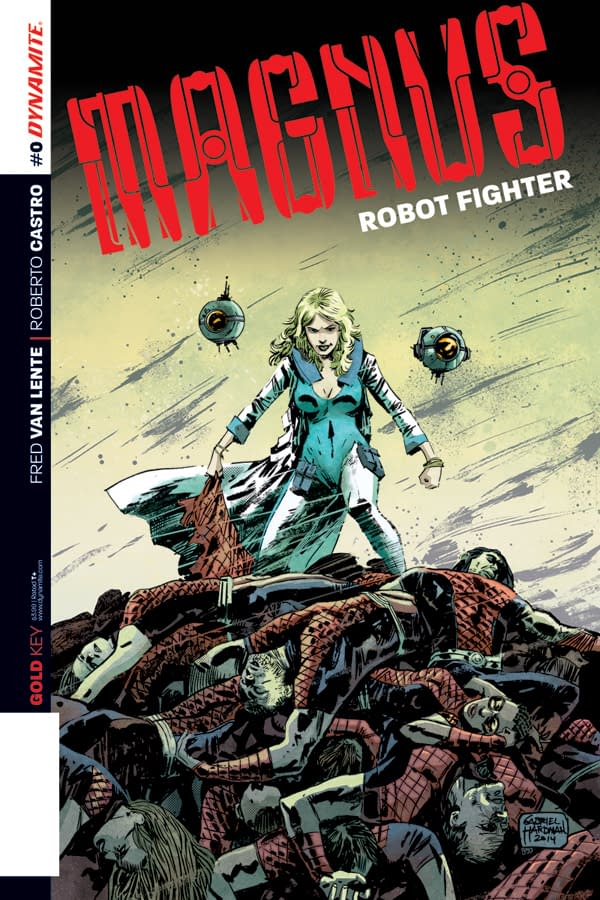 BRYON BREWER: Fred, Magnus: Robot Fighter #4 is not even off the printing press and we already have a Zero Issue here? Wassup with that?
FRED VAN LENTE: Well, we can't just make the tenth anniversary of Dynamite Comics adhere to our schedule, can we? This is in celebration of that.
BB: What can you tell us about the robot-figher fighter, the merciless Leeja?
FVL: She is the classic twisted mirror of Magnus — he fights against North Am for his father, the renegade AI 1A, she fights for North Am and behalf of her AI father, Senate Clane. He uses kung fu, she is a weapons master.
If only opposites attracted somehow! Oh, wait … Spoilers!
BB: We know this tale ties into the Magnus book, but how does it tie into the Singularity? Any hints?
FVL: "The Singularity" is an entity worshipped by North Am that Senator Clane's Synod has bent the entire society toward waiting for its return. In Magnus #0 we get a "robot on the street's" view of the Singularity, where it comes from, and what the faithful expect to get when its Second Coming finally (supposedly?) happens.
BB: The revival of the Gold Key Universe certainly has been well embraced by the fans of modern comics. Were you expecting that when you signed on?
FVL: I knew this was a special book for me personally. I really had a distinct vision for it from the get-go and that fact so many folks have responded well to it is particularly gratifying.
BB: Is it hard to consistently tie the ol' FVL humor into the futuristic drama of Magnus?
FVL: It's hard not to! I keep trying to be a quote-unquote serious, gritty writer but the satire just keeps creeping in … the consequence of being an incurable wiseass, I suppose.
BB: Might we discover any more secrets of the fascinating North Am in this Zero Issue? It is continuously wondrous.
FVL: Magnus Robot Fighter, up until this point, has been, shockingly, from Magnus Robot Fighter's point of view. This standalone story introduces a new character, a robot, through whom you see how North Am society and its battle with Magnus works. It's a good intro to Magnus's world for noobs and will add some depth for folks who have been with us from the beginning.
BB: What kind of implications will this issue have on Russell Magnus, if any?
FVL: Ooh, that would be telling…
BB: What is it like working with Roberto Castro?
FVL: His robot designs are amazing! There's a new set of characters called The Presence introduced in #0, and he just blew me away with how he visualized them — and I think the readers will feel the same way.
BB:This special Zero Issue has its origins in a celebration of Dynamite's grand 10th anniversary. How does it feel to be part of that?
FVL: It was this or jump out naked from a cake at Nick Barrucci's house, so I consider myself having gotten off easy.
BB: Fred, any coming projects you want to dazzle us with?
FVL: If you like science, definitely pre-order Howtoons from Image next month, in which Tom Fowler and Jordie Bellaire, a YA post-apocalypse saga in which two kids have to make their way across a wasteland America using their own projects and knowledge of science to survive!
For more on Magnus: Robot Fighter #0 go here.
Enjoyed this article? Share it!