Posted in: Awards Show, Games, Video Games | Tagged: awards, BAFTA, BAFTA Games Awards
---
2023 BAFTA Games Awards Announces EE Game Of The Year Nominees
The 2023 BAFTA Games Awards officially revealed all six video game nominees for the 2023 EE Game Of The Year.
---
The 2023 BAFTA Games Awards have officially revealed their list of nominees for the EE Game Of The Year, to be given out later this March. The six games the organization put up for the award are Elden Ring, God of War Ragnarök, Horizon Forbidden West, Immortality, Marvel Snap, and Stray. Each one deserving in their own right, but only one of them can win, and you have a say in the matter. You can go to their website right now and vote for your favorite nominee to take it home. This is the only category fans can vote on, and voting will be open until Friday, March 24th at 10am PT. We have the official descriptions for all six from BAFTA below.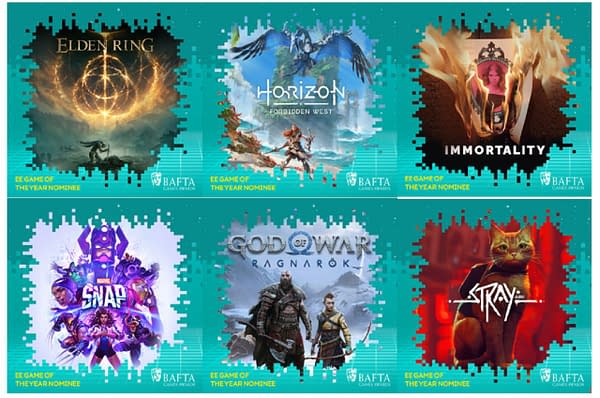 Elden Ring
Elden Ring is an action role-playing game developed by FromSoftware and published by Bandai Namco Europe. In the grand fields where the player's journey begins, mythic creatures prowl the veldts; ineffable horrors lurk in the bogs and marshes, and all manner of soldiers and itinerant. Throughout the Lands Between, Demigods holding shards of the Elden Ring squabble and make war over the ruins of a perfect realm, now abandoned by the golden guidance of the Greater Will. As the echoes of this conflict thunder in the distance, an outcast arrives. They are the Tarnished, and they have returned to claim the Elden Lordship promised to them by legend. This is the world of Elden Ring. As a Tarnished, the Lands Between awaits the player's exploration. Players will ride through the vast fields, gallop over rolling hills, and leap to the top of rocky crags on the player's ephemeral steed, revealing a world teeming with life and danger. The game is available on PlayStation 5, PlayStation 4, Xbox Series X and Series S, Xbox One, and on PC.
God of War Ragnarök
God of War Ragnarök is an action-adventure game developed by Santa Monica Studio and published by Sony Interactive Entertainment. The main characters, Kratos and Atreus, do their best to stay hidden from their enemies, training for the inevitable war they might have kicked off. Atreus seeks to further understand the clues left behind by his mother and piece together his prophesied role in Ragnarök. Meanwhile, Kratos struggles with his son's desire to uncover more about his identity, knowing it will draw them towards the vengeful Aesir. If that happens, they'll be even closer to repeating bloody mistakes of the past. Together, father and son seek to change the course of fate, journeying across the mythical nine realms and facing fearsome enemies in the form of Norse gods and monsters. As the threat of Ragnarök grows ever closer, Kratos and Atreus find themselves faced with a choice: between their own safety or the safety of the realms. The game is available on PlayStation 5 and PlayStation 4.
Horizon Forbidden West
Horizon Forbidden West is an action role playing game developed by Guerrilla Games and published by Sony Interactive Entertainment. The game features an expansive and complex world full of compelling characters, vibrant settlements, and awe-inspiring machines and nature. At the heart of this world is its protagonist, a young machine hunter called Aloy. Her story is one of survival, self-discovery, and sacrifice, which many people can relate to. Play as Aloy as she braves the Forbidden West – a majestic but dangerous frontier that conceals mysterious new threats. Explore distant lands, fight bigger and more awe-inspiring machines, and encounter astonishing new tribes as the player returns to the far-future, post-apocalyptic world of Horizon. The game is available on PlayStation 5 and PlayStation 4.
Immortality
Immortality is an interactive film video game developed and published by Half Mermaid. The haunting new game from Sam Barlow focuses on actress Marissa Marcel, who disappeared. Marissa made three movies, but none were ever released. Use the game's cinematic ability to teleport from scene to scene via match-cut and explore a treasure trove of newly unearthed footage from the lost films of Marissa Marcel. Traverse decades of movie history across Ambrosio (1968), Minsky (1970), and Two of Everything (1999). The player can cut their own path through the footage and solve the mystery of What happened to Marissa Marcel? The game is available on iOS, Android, macOS, Xbox Series X and Series S, Mac, and PC.
Marvel Snap
Marvel Snap is a digital collectible card game developed by Second Dinner Studios and published by Nuverse for Microsoft Windows. Players can assemble their own Marvel dream team from a super roster of their favourite heroes and villains. Marvel Snap is a fast-paced, adrenaline-pumping, strategic card battler that puts the player in control. The game is available on iOS, Android, and PC.
Stray
Stray is an adventure game developed by BlueTwelve Studio and published by Annapurna Interactive. Stray is a third-person cat adventure game set amidst the detailed, neon-lit alleys of a decaying cybercity and the murky environments of its seedy underbelly. Roam surroundings high and low, defend against unforeseen threats, and solve the mysteries of this unwelcoming place inhabited by curious droids and dangerous creatures. See the world through the eyes of a cat and interact with the environment in playful ways. Be stealthy, nimble, silly, and sometimes as annoying as possible with the strange inhabitants of this mysterious world. The game is available on PlayStation 5, PlayStation 4, and PC.
---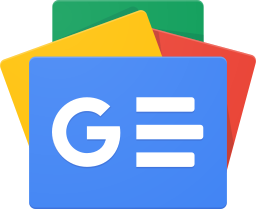 Stay up-to-date and support the site by following Bleeding Cool on Google News today!