All The Other Stuff From D&D Live 2020 That Was & Wasn't Revealed
There were a lot of things to take in with D&D Live 2020's stream yesterday, but there were many things not covered or shown off. Which, to be fair, they had a LOT that needed to be shown off. So since we don't know if or when any of this stuff will be talked about, we decided to do a little rundown of all the awesome things we know about that hopefully, they will go into more detail about over the next two days. We'll start with these awesome vinyl figures from Ultra Pro as they have created a new line called the Figurines of Adorable Power. As you can see, you get a nice mix of Dungeons & Dragons monsters and creatures including the owlbear, the mimic, the beholder, and the Giff, among others. These are available now and, as you can see as of the timer we're posting this, there's a sale happening.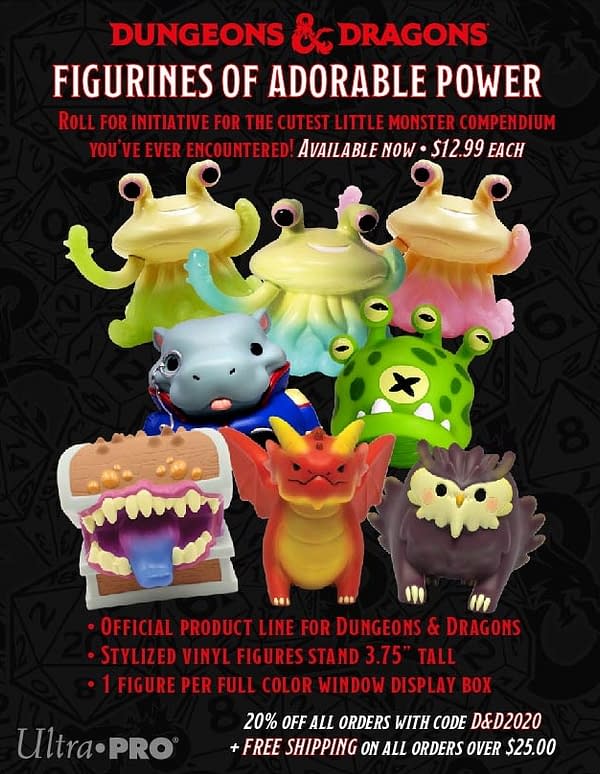 Next up is a collection of new items from the company For Fans By Fans, who have been making some awesome D&D stuff over the years. The three new items we know they are releasing in conjunction with the event are this awesome new Cold Cup on the left with a design by Bronze Archer, the Gelatinous Cube Dice Bag in the middle designed by QuietSnooze, and these new pins on the right that have some of the game's monsters in an adorable Chibi-esq look from Christa D. Right now the only item we see available on their website is the dice bag, no word on when the others will appear as of when we're writing this.
During Thursday's live stream, you may have noticed one of the ads running in the middle of the show was from 80sTees.com, who have a brand new line of D&D-themed merch for sale. As you can see below, they have a LOT to offer this time around as we have a mic of awesomeness. First off, they have a new line of hoodies that have you looking like one of a few different adventurers from the '80s Dungeons & Dragons cartoon. Speaking of which, you'll also see there's an entire line of shirts dedicated to the animated series. These are a lovely throwback that should make a lot of fans happy to see the cartoon get some praise nearly 40 years later. There's also a new line of shirts with classic book covers and art from both first and second edition of the game. A very cool addition.
While we're on the subject of shirts, the folks over at Heroes & Villains also had their own line of clothing to show off. These are a lot more along the lines of being something you'd see and have to take a second look, and then nod with approval when you realized what the reference was. You may recognize them best for their Star Wars gear, but now they're taking a proper crack at D&D gear. I especially loved seeing the Warduke and Volo's gear presented like it was work clothing. They have some pretty cool options that are worth checking out that are new as of this event.
Finally, the one that really caught our eye and we're shocked was NOT promoted during Thursday's stream is a new line of D&D-themed Halloween gear from Spirit Halloween. it's been a hot minute since we've seen actual Dungeons & Dragons-themed costumes that were straight-up for the season and not a cosplay item. (Because some of us don't have the talent to make one.) Right now they have a few new props and costumes on sale, including costumes from the 80s cartoon series for the Dungeon Master, and familiar characters like Cattie Brie and Drizzt.