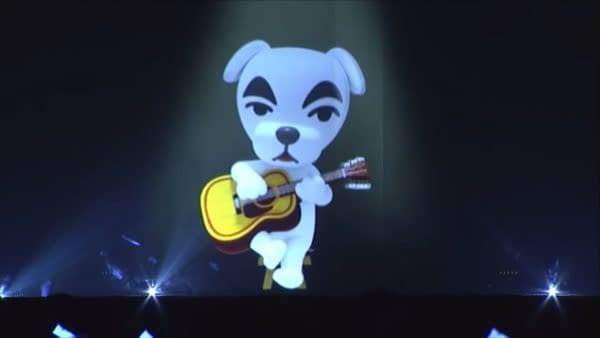 The first day of the Kyoto's Nintendo Live event happened today, and plenty of festivities with it. Despite the typhoon that's been roaring through Japan, the Splatoon 2 concert that had been scheduled still took place.
During the concert opening, fans were treated to a fun cameo from a familiar face. K.K. Slider from Animal Crossing opened the show. The cartoon dog spent some time playing an "acoustic" version of the new Animal Crossing: New Horizons theme. He then switched over to "Splattack!" before giving it up for the Squid Sisters and Off the Hook. Splatoon 2 fans in the audience had plenty to groove along to.
The audience went wild over the hits the characters performed, which were accompanied by live band members. Holding a variety of colorful glow sticks, it was clear everyone in attendance had every single "word" memorized. The fact that K.K. Slider made an appearance was a fun way to promote the upcoming Animal Crossing game as well.
K.K. Slider should be reprising his role as "fun singing dog" when Animal Crossing: New Horizons finally drops on March 20, 2020 as a Nintendo Switch exclusive. In the meantime, you can keep rewinding this complete performance to hear that awesome opening over and over. Meanwhile, we're still over here trying to figure out the best ways to sing along. It's not easy.
Enjoyed this article? Share it!