Respawn Entertainment jumped right into pleased-as-punch mode today as Apex Legends boasted one million players in the game's first day. The news went up yesterday from company CEO Vince Zampella as they were extremely happy with how the first day of activity went for the game. Not to mention being the most-streamed game of the day yesterday on Twitch.
I'm so overwhelmed right now, @PlayApex broke a million unique players in under 8 hours. ❤️❤️❤️

Thank you so much for showing up and being part of this with @Respawn you are amazing!! pic.twitter.com/lvNgfwwKhl

— Vince Zampella (@VinceZampella) February 5, 2019
Meanwhile, the company unveiled their road map for the rest of 2019, which includes some interesting items. The first, being a bit of how they'll pay for the game, is the Battle Pass which will unlock items for players who use it. Every few months it appears we'll see new legends and loot added to the game, as well as some special events each season. It looks a lot like the way Ubisoft plan out their Rainbow Six Siege content. We're looking forward to seeing what March has in store for Apex Legends.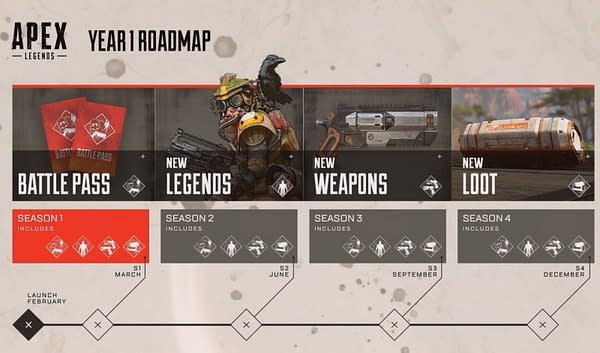 Enjoyed this article? Share it!