The last time we reviewed Teenage Mutant Ninja Turtles: Shadows Of The Past, we were checking out the core game that IDW had released after a successful Kickstarter campaign. Like any campaign, there are additions that come out later and some material that is exclusive to people who donated a certain amount. In the same vein of Zombicide, we're now seeing expansions being added to the core game, starting with the hero packs. IDW Games were kind enough to send us a copy of April O'Neil to check out and see how she handles in the game. First off, the figure seems to match that of the regular game characters, standing at two inches tall and having a defined sculpt that sets her apart from the regular street thugs, foot clan members, and other human characters on the board. The character would be easy to paint, the only area you're going to have super difficulty with is the face, which is shrouded in her hair with a hoodie. A pretty good design that matches well with the gang. April's dice don't quite match the other heroes in the game. Aside from the red and yellow scheme, the big change to April's dice (which you'll see below on the right) is that she comes with an extra ying-yang symbol and does not have a double-katana symbol for two attacks. But that's pretty reasonable, because in almost every incarnation of Teenage Mutant Ninja Turtles, April is a supporting character that doesn't do a lot of fighting. So if you're going to use April, her dice best fit between a combination of Mikey, Don, and Leo.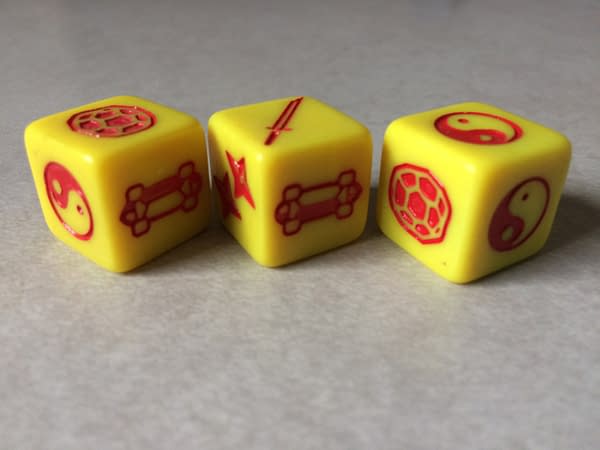 Looking over her card, that reasoning is doubled, as she only has one special move per turn and lower stats on skill and attack. However, she has a higher movement value and focus, which will allow her to do more in a single turn with her options than many of the turtles would. The downside is that once April is knocked out of the fight, you need to get her back up to at least nine health slices before she wakes up and can get back in. So if you use her for team-up moves, use her wisely. A major benefit to April is that she automatically gets the Gravity Gauntlet and the Stealth Suit as options for her special move, and neither of them go against her option to choose one more — so it's like she automatically comes with three. The best option of the bunch is First Aid, primarily because none of the turtles are all that great at healing themselves during combat, so she can rush in and be the team medic if you choose to play her defensively. If you like taking risks and want to throw her into combat, Self-Defense or Slippery are the best options below, as they can do quick damage if you roll right, or can get you in and out of bad situations in a hurry. April also comes with her own Teenage Mutant Ninja Turtles: Shadows Of The Past adventure comic, specifically designed with April in mind as the primary character to lead the arch and drive the story. We won't give much about the adventure away, but it was awesome to see IDW keep this incarnation of April in line with how she's portrayed in a modern tone. Less of a damsel in distress who is always in danger while getting the story, and more of a team member who gets the scoop because she's part of the scoop to begin with. (Kudos to the cover art of her locking the boys up in the Turtle Van.)
Overall, the April O'Neil hero pack makes a nice addition to the game, as you can play her in a variety of ways without being a full-on hero who needs to attack. She reminded me a lot of the David Bowie/Labyrinth-inspired character from Zombicide called Hitch, who gets in and out of situations very quickly, but can also do some quick damage when necessary. Think of her as a healing rogue and you can get a lot done in the game as you aid the turtles. Enjoyed this article? Share it!