"Doctor Who: The Edge Of Time" Receives A Launch Trailer
Before we see the release of Doctor Who: The Edge Of Time, PlayStack and Maze Theory have published a brand new launch trailer for the game. There's some really cool references in here, not just for the current Doctor but ones from the past as well. All tied into a fun little VR adventure. The game launches tomorrow, November 12th, for PSVR, Oculus Rift, HTC Vive, and HTC Vive Cosmos, with Oculus Quest due before the end of 2019. But until that time comes, enjoy the trailer and the new description of the game below.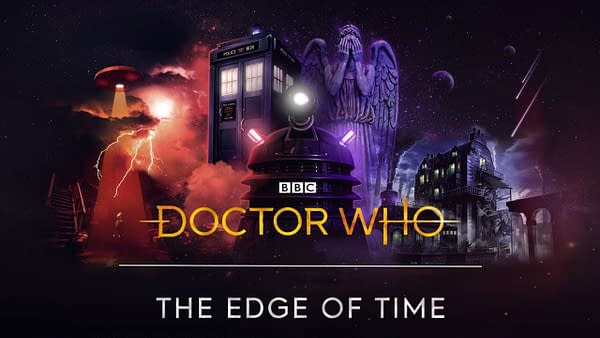 The Doctor has been hurled through time to the end of the universe. A virus that threatens to rip apart reality itself has been unleashed. Players can pilot the TARDIS on a journey across worlds both familiar and strange to recover a series of powerful time crystals that can repair spacetime and ultimately, save the universe itself.

Crafted with countless references to the show and its 55-year history, Doctor Who: The Edge Of Time combines action, horror and sci-fi, equipping players with the Sonic Screwdriver to solve mind-bending puzzles, escape treacherous environments and come face-to-face with classic Doctor Who monsters, all within virtual reality for the first time ever. Escape from Weeping Angels, face off against brand-new monsters and pilot a Dalek shell to harness its' fearsome weaponry in a thrilling and immersive single-player adventure!