Asmodee Digital to Publish Nomad Games' Fighting Fantasy Legends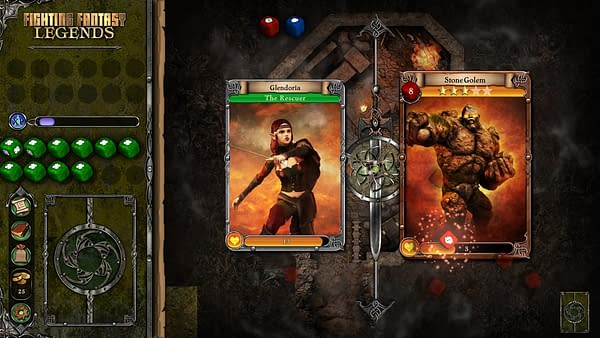 Asmodee Digital, the folks behind many digital ports of tabletop favorites like Pathfinder Adventures and Catan Stories, have announced that they will be publishing Nomad Games' Fighting Fantasy Legends. Taking place in the Fighting Fantasy world of Titan — a monster-studded mythical world created by authors Steve Jackson and Ian Livingstone — Fighting Fantasy Legends is a card-based RPG that blends digital card game mechanics with interactive fiction.
Fighting Fantasy Legends released last year to mostly positive reviews from critics and players. The game is available now on Steam for Mac and Windows. Asmodee Digital have released the game for iOS and Android devices, and with them at the helm, it looks like we'll be seeing Nomad's Fighting Fantasy Legends become a series.
Based on three of the classic gamebooks City of Thieves, Citadel of Chaos, and The Warlock of Firetop Mountain, Fighting Fantasy Legends requires players to travel across the continent of Allansia, facing off against various enemy types and piecing together clues to solve a few cryptic mysteries along the way. Players will traverse locations from all three books, facing deadly decks of cards at each location. And if that wasn't enough, you've also got to power up your dice, increasing your luck or skill, to help maintain your stamina and survive the game.
"We are huge fans of the Fighting Fantasy series and the folks at Nomad Games have done an excellent job at making a game that stays true to the lore" says Philippe Dao, Chief Marketing Officer of Asmodee Digital. "We're honored to take over publishing responsibilities for such a storied universe, and we look forward to supporting Fighting Fantasy Legends for years to come."
Ian Livingstone, co-creator of Fighting Fantasy, said, "In Fighting Fantasy Legends, Nomad Games have created a thrilling solo adventure by capturing the danger, detail and excitement of our gamebooks, re-imagining the experience for digital platforms. I'm delighted that Asmodee Digital will be publishing Fighting Fantasy Legends, leveraging their renowned expertise to take the game to new global audiences."
Steve Jackson, co-creator of Fighting Fantasy said, "Ian and I are proud to have Asmodee publishing the Fighting Fantasy series of gamebook adventures. When I look at Asmodee Digital's catalogue of e-boardgames, I find many of my own favorites, like Ticket to Ride. The Fighting Fantasy solo RPG series will fit comfortably into the existing range, but it's not a straight conversion from the solo RPG format. Nomad developed an entirely new game design, creating an RPG card game in a style that fans have not seen before."