Austin Creed and Kenny Omega Have Laid the Groundwork for Awesome Possibilities
There's something that Austin Creed (Xavier Woods in WWE) and Kenny Omega did at E3 that shouldn't be ignored, yet so many have failed to see the awesome possibilities on. So let's be very candid with each other when it comes to professional wrestling. There hasn't been a time since the '90s where two global wrestling promotions with different ownerships worked together.
The two most vivid examples I can point to are WCW and NJPW that happened from 1991-1998, and the secret partnership between WWF and ECW from 1997-2001. (Yeah, I know some of you are going to scream about all the deals TNA/Impact did, but if they were relevant, we'd be talking about their performers right now.) The reality of the world we live in for pro-wrestling is that there are several smaller promotions that trade talent, a few major promotions getting a buzz every so often, and the two biggest in the world don't play ball with each other.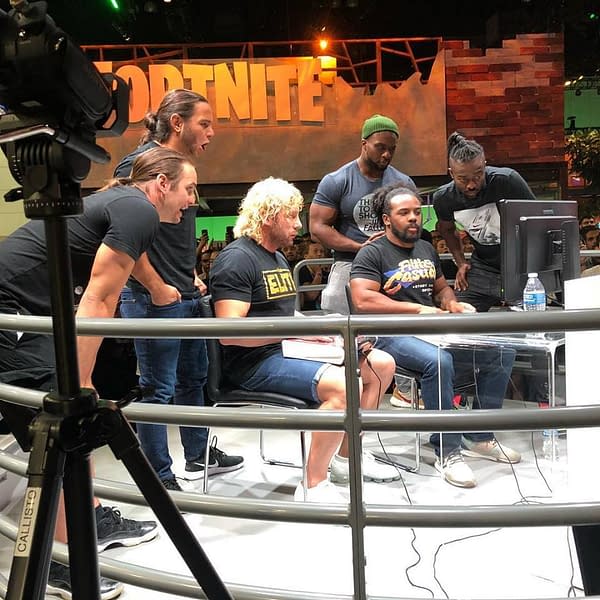 When Omega and Creed started coming together for occasional video game battles on Creed's YouTube channel Up Up Down Down, it was a fun showdown that we knew we'd love to see in the ring. But we're happy to settle for them duking it out at a bar arcade, or going head-to-head at CEO 2016, all the way to the fierce battle we saw at the Capcom booth this past week over Street Fighter V (which you can watch below).
While Kenny Omega came out on top in singles and The New Day prospered as a team over The Elite (Omega and the Young Bucks), the crux of this all is that the real winners were the fans who got to watch it happen. As Omega himself put it at the end of the video:
"This video game competition has happened between people from two completely different companies. … Guess what, everyone? News flash: we don't hate each other. In fact, what we want to do is work together to give you the best entertainment package you have ever seen."
While it sounds like a pipe dream to a lot of wrestling fans, the fact that WWE promoted the event on their own website (albeit removing NJPW from being mentioned) gives a bit of life to the idea that maybe, one day, we can see a WWE/NJPW crossover event.
Imagine… just for a moment, the dream matches that could be had between both companies. It would be one of the greatest co-branded wrestling events since the first WCW/New Japan Supershow. Okada and Reigns, Naito and Rollins, Tanahashi vs. Cena, Zayn and Ibushi, Owens and Ishii, KES vs. Bludgeon Brothers, New Day vs. Los Los Ingobernables — the list goes on. You could put Goldust vs. Toru Yano on the preshow and it would still kick ass. And hell, we could get the goodbye match we never saw in NJPW with Omega vs. Styles.
These are all just examples, and maybe there are better matches to be had, but it would still be an awesome sight. With any luck, this is the kind of thing that just laid the groundwork for a massive event down the road. Maybe not this year, or next year, or the year after that, but somewhere in the future. And if it happens, Austin Creed and Kenny Omega deserve all of the credit. As they always say about wrestling: Never Say Never…