One of the cool things to see from companies is when they resurrect old lines and bring them back. The gaming chair company nobelchairs decided that the Nitro Concepts line should make a formal return to the marketplace and produced a new line called the S-300, which we happily received for review.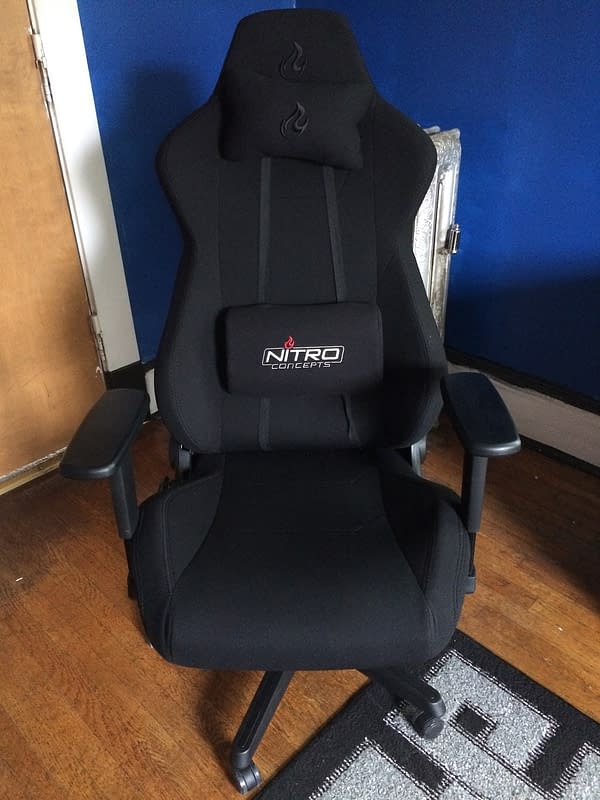 First and foremost, this does not feel like your average gaming chair because of the fabric and the way the seat is designed. This has more of what I would call a bucket-seat feel but without the ridges of that design. When you sit, you can feel where you need you need to be seated and can adjust yourself, while the chair's foam then cushions and supports while adjusting to your weight. The chair comes with two pillows, one for your head and one for lumbar support, both with the Nitro Concepts logo on the front. These are both comfy and well designed, but I did have issues with the way they were attached. Both use a snap latch to hold them to the chair through two slots at the top, with the lumbar stretching top to bottom to make the connection. This design is frustrating as I often find myself trying to adjusting them and finding I have to unsnap and put them in a new spot manually, sometimes whipping my fingers because the elastic is stretched so tightly. This design seriously needs to go from chair designs. The base is adjusted through a single-lever design that handles elevation and swivel, located on the right side for easy access. The recliner lever is also sitting on the right side, which moves with ease and doesn't really have any issues locking into place. The arms are a flatter and a unique design than I've experienced in other chairs, with what feels more like a metal locking mechanism on all of the movement joints then plastic. It allows for a firmer placement hold on where you want things to be held than a plastic one. The base of the chair is about as sturdy as any I've experienced, well able to hold around 400 lbs of weight and move freely with some decent plastic and metal wheels. The best part to the chair overall was the fabric, which had a bit of water resistance (dripping, not full on splashing) and easy to clean with a vacuum in case it gets dusty or dirty. This chair is essentially a hybrid between being a comfy office chair and a professional gaming chair. Sometimes it meshes those two areas together well, like in the reclining and adjustment areas, and sometimes it fails, like in the lumbar support. Overall, I enjoyed the S300 from Nitro Concepts, and while there are a couple things about it that didn't gel with me, it's still a good chair that a lot of people will enjoy. I recommend it more for people who are looking for something less formal than an office chair but still want those kinds of options. Enjoyed this article? Share it!