A while ago, Wizards of the Coast announced that they would be launching a new online game service called Magic: The Gathering Arena. A brand new system that would bring the classic trading card game back to online competition with what appeared to be a streamlined system. As someone who plays Magic: The Gathering, has known the property for years, and has experienced some of the not-so-pretty aspects of previous PC versions, there was a part of me that was a bit skeptical when I saw the preview of it. But I had to know if it was going to be different this time around, so I downloaded the beta to try it out for a preview.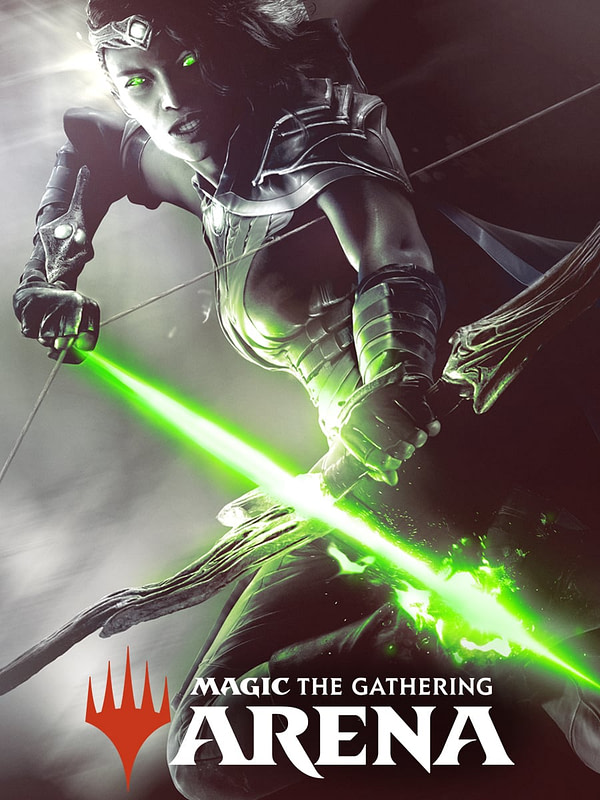 The way that the beta has been set up is that it introduces you to the concept of Magic: The Gathering from a somewhat beginner's standpoint. As if you've never picked up Magic: The Gathering before in your life. Which is nice for people who haven't played or need a refresher course, as you're forced to take on a series of foes and learn what mana, spell casting, instants, enchantments, creatures, and all the other bits in-between do. For those of us who have played, it's a nice reminder of what's possible in the game. A part of my brain woke up during the tutorial and said: "Oh yeah, flying creatures!" After that, you're allowed to go in and set up your own profile and are given five pre-built decks of all five colors in Magic: The Gathering with current tournament-legal sets.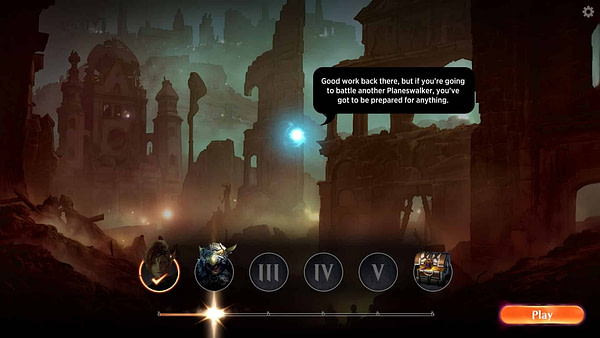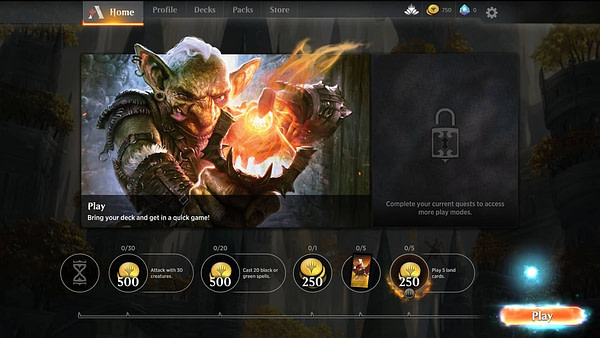 The setup is pretty cool as you and your opponent are set up on opposite sides in what looks like a far better and cleaned up version of previous efforts. I feel like they took some of the elements that really worked from Duels of the Planeswalkers 2015 and refined it. If I had to make a proper comparison, I'd say it resembles Hearthstone's setup, but it's been given a very different canvas and tailored to how their system is supposed to be played. Mana, creatures, spells, draw pile, and the graveyard/discard pile all have their specific place on the board that is visible to everyone. You can take a mulligan at the start and be one card short if you hate your hand. The game takes you through every phase of play and even offers the ability to skip your turn. When creatures go into battle, you have the power to match up whoever you want against each other, even double-teaming them. Your life counter is measured below your character's avatar, and you get some music at the end whether you win or lose.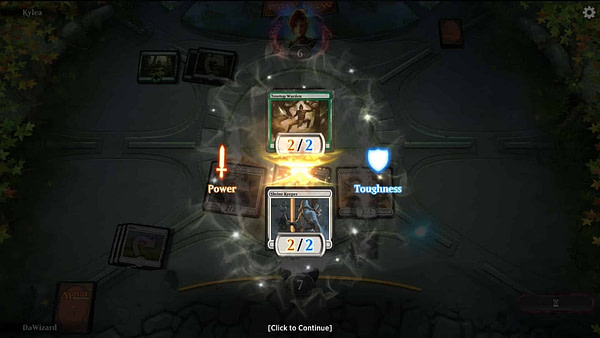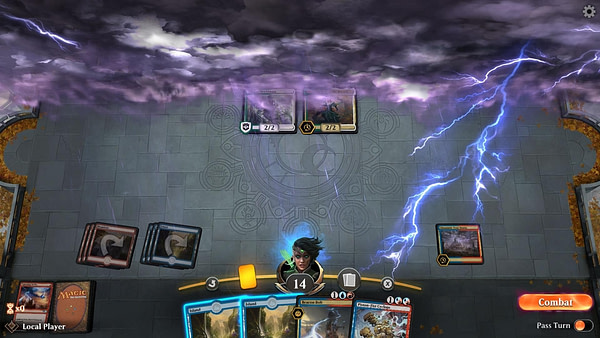 One of the fun aspects of the game is watching your hand play out. Aside from the decision making, everything here is automatic. Creatures die and go immediately to the graveyard. Spells get cast and the effect is felt immediately. When tokens are called for, they're put immediately into play. When attributes are added to a creature's health, the card's attack and defense totals are changed on the card. If a creature can fly, the card hovers above the table. All the little things that people don't think about in the middle of gameplay or would get lost are put on display in fantastic fashion. Especially when you cast high-powered spells and creatures, which come with their own animations that stand out on the board and spell trouble for your opponent.
Winning comes with its own set of circumstances as you gain experience and level up, which will unlock new card decks for you to open. Booster packs, essentially. You can also complete challenges within the game like casting 50 green spells in a day, which will reward you with in-game currency to go buy other booster packs and starter decks. Something I'm sure a lot of fans won't be happy about that is in the game is that there's a real-world money way to buy more in-game currency to buy desks. Which is basically the same as buying loot boxes. We're letting WotC off the hook on this one because the game (or at least the beta for now) is free to play. So the only way for them to make money off the game is through microtransactions or advertisements. And personally speaking as someone who has self-control and knows what my money is worth, I'd rather have the shop than ads playing after every game.
We got a little in-game currency to try it out and see how the decks work out, and to our surprise, this is very RNG. There's no pre-built system in place, meaning the booster decks don't have a pre-determined set of cards. Everything that's "packed" is random. I got a couple of cards that were the same, but it wasn't like I got the same set of cards twice in a row. You can choose between Guilds of Ravnica, M19 Core Set, Dominaria, Ixalan, and Rivals of Ixalan right now. All of them cost something different depending on how many packs you purchase.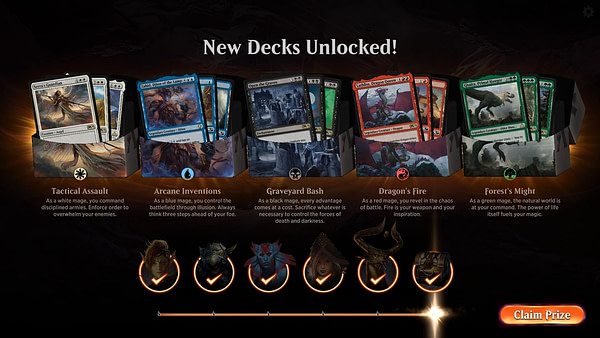 One of the most awesome aspects I was happy to see was a cleaned up library. You can go in and view your decks and see all of the cards that you have and build one from scratch. The game tracks how many you have of each card and allows you to build with what you have, but doesn't allow you to cheat your way there through duplication. Meaning if all you want to make is a spell deck, you need the spells to make it happen, you can't just create the same spell four times over on your own. You can import and export decks, clone ones that work and retool them, and garbage ones you hate but still keep the cards you own. The game will even give you stats on how well a certain deck may perform. It is, by far, the best system I've ever seen implemented for Magic: The Gathering on a digital level.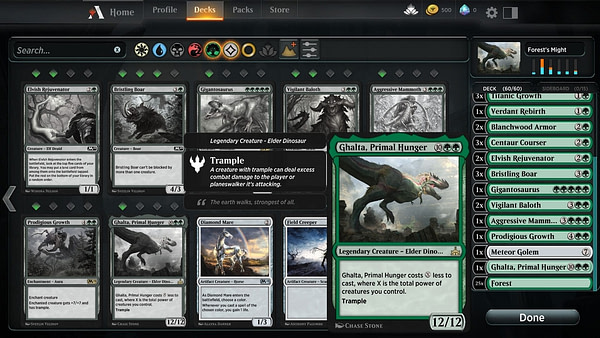 I was quite pleased trying out Magic: The Gathering Arena. Everything that needs to work does, and there's little here to complain about in terms of matchmaking, deck building, and the overall feel of the game. Is there stuff missing? Sure! It's a beta! There's no flavor text on the cards (just if you hover), you can't pick an opponent, there's no chat option… but who cares. It's worth trying out for fun and there's no need to buy as you can earn decks by completing achievements. We recommend giving it a shot no matter what kind of Magic: The Gathering fan you are.