Bethesda Softworks Releases A Summer Roadmap For "Fallout 76"
Some interesting things have popped up from Bethesda Softworks this week after QuakeCon 2019, including a Summer 2019 roadmap for Fallout 76. The company didn't really do a formal blog post about it. Instead, they released the image below on Twitter for people to check out. Some of the cool little surprises that came out of this are the new game mode Nuclear Winter, which will be their 52-player PVP Battle Royale game. The Seasonal Meat Event which will kick off on August 1st. And a new four-player Vault Raid happening on August 20th as you head to Vault 94.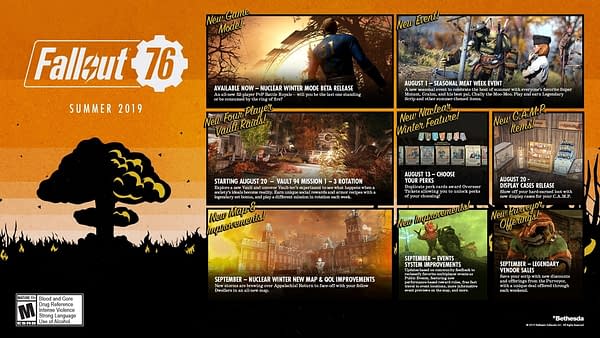 Other features include new maps and improvements to the game will be rolling out in September. You get some additional S.P.E.C.I.A.L. perks and new C.A.M.P. items coming next month on August 13th and 20th, respectfully. September will see system improvements across the board but specifically in events, and Legendary Vendor Sales will take place. Overall, there are some good things on the way for Fallout 76, provided you're well stocked up and have some friends ready to fight. Hopefully, the devs will release more information on these as we get closer to their actual release dates.