Bleeding Cool's Best in Games 2018: Best Tabletop Skirmisher
A tabletop skirmisher wargame is like a large scale wargame, just smaller and shorter. Rather than controlling legions of miniature battle units, instead you control only a handful. The games are often shorter than your typical wargame, and are waged on smaller tables. However, that doesn't mean they can't be absolutely brutal.
The nominees for Best Tabletop Skirmisher are:
Crystal Clans
Malifuax
Blood Bowl
Summoner Wars
Star Wars: X-Wing Miniatures
Mythic Battles: Pantheon
Warhammer 40,000: Conquest
And the winner is… Blood Bowl.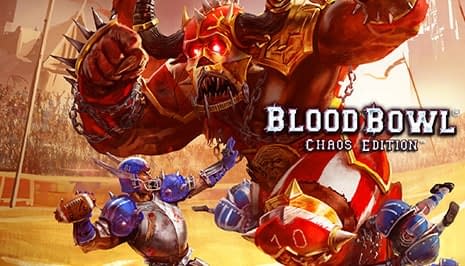 Blood Bowl, unlike many of the other games on our nominee list, is a more modern skirmisher. Its a fantasy hybrid game that combines combat with giant raging hellbeasts alongside the more familiar background of American Football. While its a highly strategic game, it also involves mechanics that are familiar to many players and simple enough to follow. That combination of simple rules with deep strategy allowed Blood Bowl to eke out a lead over runner-up Malifaux which has very complicated rules.
Malifuax's greatest strength and greatest weakness is its complexity, with ever-evolving rules and constantly changing meta. It's a hard game to pick up, and an easy one to lose track of if you put it down. Warhammer Conquest came in third, because it may be a great introduction to the world of Warhammer 40,000, but it pales in comparison to the original.
The winners of these awards were voted on by the gaming staff of Bleeding Cool.