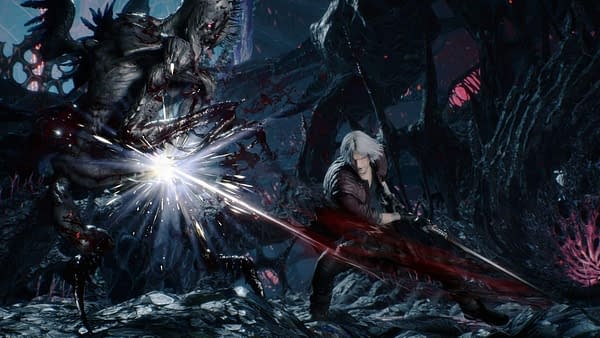 Early reviews for Capcom's Devil May Cry 5 dropped yesterday and were generally incredibly positive, and that includes our own. Capcom USA's CEO Kiichiro Urata had a message for fans celebrating the game's early critical success. The message was shared by DMC 5 producer Matt Walker on Twitter last night.
A message from Capcom USA CEO Urata-san: pic.twitter.com/pf9oXaqKZy

— Matt Walker (@retroOtoko) March 6, 2019
Urata's message is a simple "Capcom is back," referring to the company's recent success with launches of Resident Evil 7: Biohazard, Street Fighter V, Monster Hunter: World, Resident Evil 2, and now DMC 5. Honestly, outside of Marvel vs. Capcom: Infinite, all of Capcom's game releases since 2017 have been major successes. Even Mega Man 11.
Adding to Urata's enuthisastic message is his Dante cakepop, which adds some extra stylish points to the short video. You can also hear a loud "Yeah!" from Walker behind the camera, because it seems everyone at Capcom USA is pleased with the launch.
It seems like Director Hideaki Itsuno's decision to develop DMC 5 instead of Dragon's Dogma 2 was well worth it. Though, now that DMC 5 has released with some serious aplomb, maybe we'll finally get that Dragon's Dogma sequel anyhow.
Enjoyed this article? Share it!