Ben Schamma, a cosplayer better known under the name Maul Cosplay, is featured in a recent fan-film based on The Witcher series. Schamma has cosplayed as the famed Witcher before for CD Projekt Red at large events like E3 and Gamescom back in 2016 – I actually spotted him wandering around the Los Angeles Convention Center in full Witcher gear at E3 happily posing for photos with fans.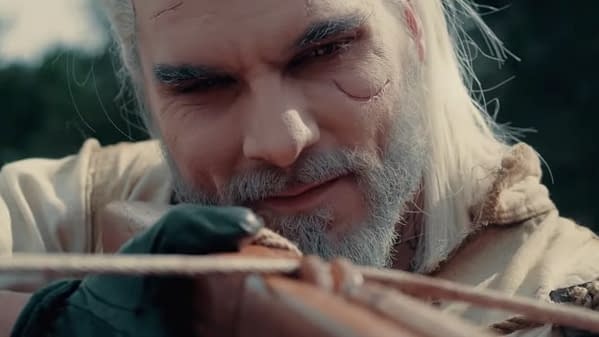 Schamma has also portrayed Geralt of Rivia in his own NSFW calendar, because of course people want a calendar of sexy Geralt. This time, the monster hunter keeps his clothes on and joins up with Triss Merigold (I know, its surprising this is the safe for work project) to cause some mayhem in a fan-made short film, which has no affiliation to CD Rojekt Red. The fan-film was directed by Leo Kei Angelos and produced by Erika Rogers, who also plays Triss.
For a fan-made film its goddamn incredible, incorporating the game's soundtrack perfectly, showing off some fantastic fight choreography, and managing to be absolutely entertaining. But don't let me sway your opinion, you can check it out for yourselves below:
The one thing that confuses me about the film is: what on earth are they fighting? I'm not exactly a slouch at my Witcher lore, but that does not ping me as any of the usual suspects. Its not a striga, not your garden variety necrophage, not a vampire… Any guesses?
Enjoyed this article? Share it!