"Critical Role" & Penguin Random House Announce "The World Of Critical Role"
Critical Role continues their expansion of media with a brand new book on the way through Penguin Random House called The World Of Critical Role. The book will cover the show, the series, and more with an in-depth guide to everything they have created over the past five years. The book is written by Liz Marsham and the cast (Matthew Mercer, Ashley Johnson, Marisha Ray, Taliesin Jaffe, Travis Willingham, Sam Riegel, Laura Bailey, and Liam O'Brien). PRH will release it through Ten Speed Press, the same publisher who has released several Dungeons & Dragons titles over the past few years. The book will come out in the U.S. and Canada on September 15th, 2020. Here's a quick synopsis of the book as we look forward to seeing pages from it in the future.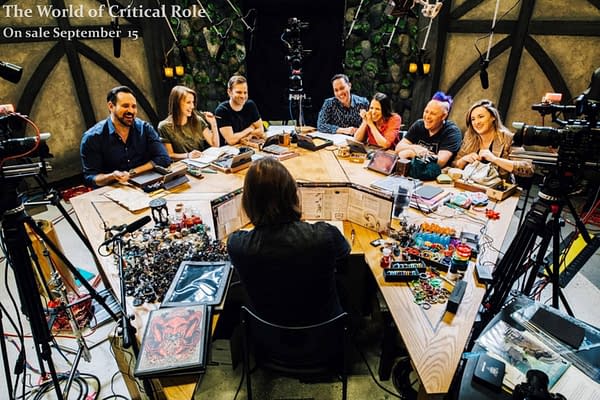 Based on all-new interviews with the cast and featuring over 100 new illustrations by Oliver Berrett, The World of Critical Role will give readers a behind-the-scenes look at how a circle of friends' home game became the most-watched fantasy RPG livestream of all time. With insights into the events, characters, and locations of the adventures of Vox Machina and the Mighty Nein, fans will hear from the players themselves about their most triumphant moments and darkest hours. This indispensable guide to Critical Role will also celebrate the massive community of Critters who support and expand the show's world, through the crafts, cosplay, and art they create every day.