D&D Reveal The Icewind Dale Dice & Miscellany Set
As part of the reveal for the new Icewind Dale adventure today, D&D will be releasing a new set of dice to complement the campaign. As you can see below, the dice set is basically tailor-made for this campaign. The company has done a really awesome job of creating a set that, to the best that can be offered with dice, look like they are chiseled out of the frozen caverns and shaped to look like the coldest set of dice you've ever rolled. But like others before it, this is a complete box set with some add-ons. Here's the full list of what's inside this D&D box set.
Eleven dice (two d20s, one d12, two d10s, one d8, four d6s, one d4).
Player-friendly foldout map of Icewind Dale and Ten-Towns (10.5" × 15.75").
Durable, felt-lined box that functions as two dice trays.
Twenty double-sided cards with descriptions and illustrations of characters and creatures one might encounter in Icewind Dale.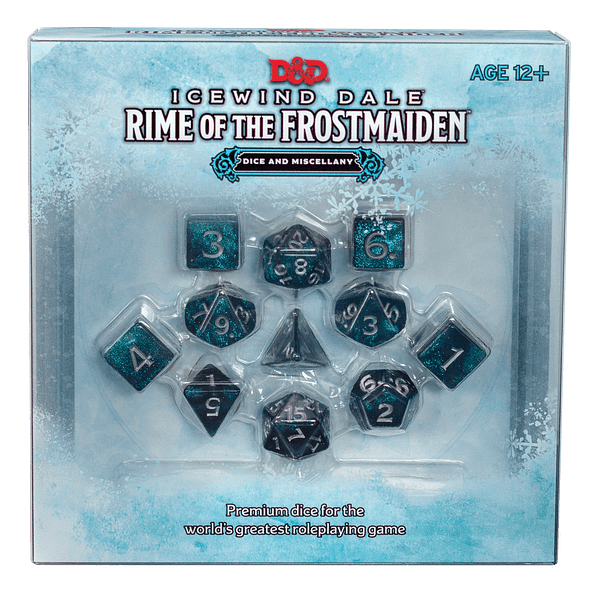 Considering how well this looks, we're a little surprised this wasn't released already as part of some sort of holiday package. The way they went to work on the ice-themed design is pretty sweet. Also, for those who have never bothered to venture into Icewind Dale on their own, it's great to have a map and a set of cards to let people know what's in the area and educate them on the dangers to come. If you're looking to pick up this set of dice, they'll run you $30 when they eventually come out. You can pick these up on September 15th as they will be released on the same day as the new adventure.