Defenders Of Oasis Is The Game Gear's Most Underrated RPG
Sega's Game Gear is an oft-overlooked member of the handheld family. Though fans can get their own diminutive version as the Game Gear Micro, it's still a system that doesn't get near enough love. Much the same, there's an excellent RPG on the system that rarely receives the praise or attention that it should, either. That is certainly the case with Defenders of Oasis, released for the Sega Game Gear in 1992. Defenders is a traditional RPG that doesn't do anything particularly different, as it sticks to the mold quite closely. It's setting, however, is extremely unique, as it's an Arabian Nights-styled adventure with eye-popping colors and an exciting narrative.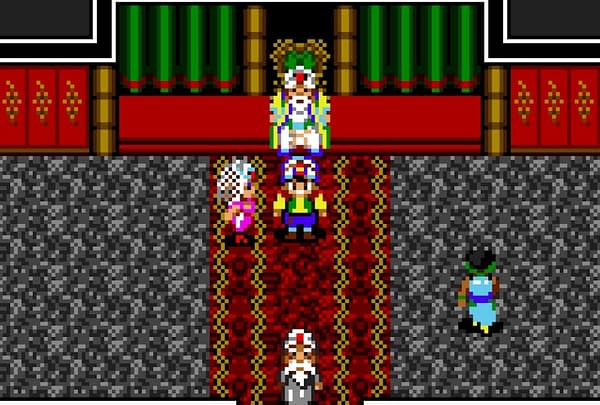 You play as the Prince of Shanadar, who wakes up one day for a typical day living life as royalty. But one particular day, a princess is coming to visit. The Prince digs up some important information about the civilization he will one day rule before the princess visits while spending time in the library. His family's ancient texts state that there once had been an evil sorcerer by the name of Ahriman who ruled Shanadar and its neighboring countries.
In the past, the hero Jamseedt appeared to vanquish and seal Ahriman into some magical dimension. To do so, he utilized three magical rings as well as a genie. With that, the hero rose to the rank of King of Shanadar. The magical genie's lamp was thrown into the basement to be used whenever evil struck again in the future. The three rings were kept and shared, and I'm sure you can guess where this is going. The Prince is soon woken to find that Shanadar is under attack by the Empire, and is given the second ring from his father to "guard with his life." Bam! You've got yourself an adventure.
From there, you jump right into things: there are plenty of random battles, and there is a ton of level-grinding. However, in battles, the enemies do not move. Enemy portraits are stunning and well-drawn, and the game is quite stunning, I definitely mean so. It featured some of the most vibrant graphics possible of the 8-bit era, with colorful and loud character sprites making their way along gloriously detailed landscapes. It's always been a pleasure to journey through this unique world, and I'm eager to return to it time and time again. In a world where we tend to complicate things unnecessarily, Defenders of Oasis is content to simply be. It doesn't try to cover every single genre. It just tries to do a good job with what it is. I can respect that, and I certainly appreciate it.
Defenders of Oasis is and was a completely solid RPG. It doesn't redefine the genre, but what it does, it does so well that it's a great play. If you've never heard of it before, try securing a copy. It's worth tracking down and popping into your old Game Gear. That thing needs some love sometimes, too.