A Nice Atari Disney Sorcerer's Apprentice Game Is At Heritage Auctions
One of the cooler Disney items offered in this latest round of Heritage Auctions, a nice graded copy of the old Sorcerer's Apprentice game for Atari, is sitting at auction and ending today. Currently, this cartridge is sitting at a cool $360, which for something like this should be right up Disney collectors alley. This was your basic side-scrolling Atari game, as it really didn't have an ending really, you just kind out ran around as Mickey and collected things. You could lose, but really it was just a way to pass some time. What is awesome is the box art. Classic Walt Disney logo, with Sorcerer Mickey directing the brooms with the water buckets. Excellent stuff, and you check it out down below.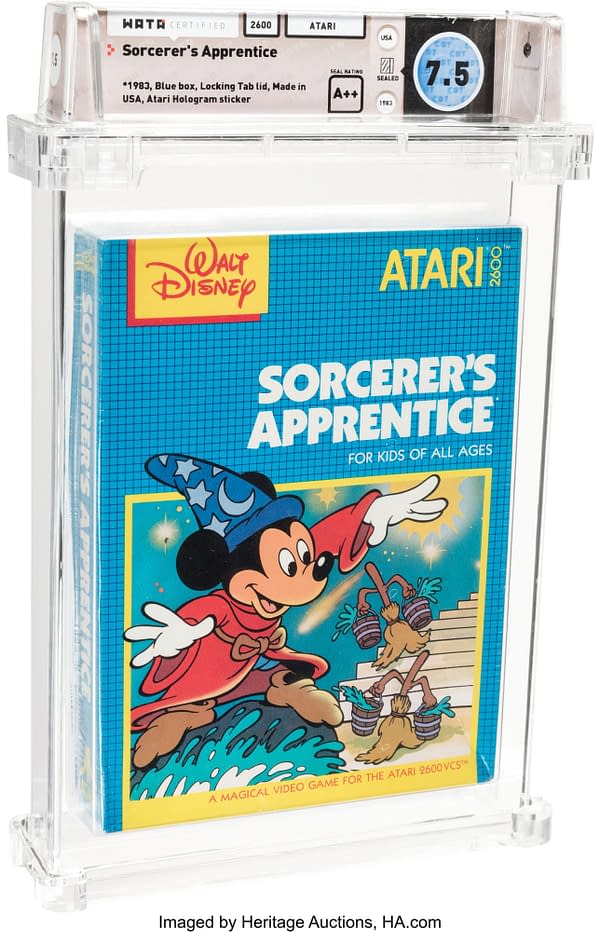 Graded Disney Sorcerer's Apprentice Game
"Based on the animated Disney classic "Fantasia," Sorcerer's Apprentice puts players in charge of Mickey Mouse as he collects and shoots stars and meteors on the mountaintops to keep the walking brooms from filling the Sorcerer's cavern below. For every caught star, a bucket appears to remove some of the water from the cavern. Mickey also has the opportunity to catch the brooms before they get to the bottom of the stairs and flood the cavern further. If Mickey fails to provide enough buckets or stop the brooms, they will flood the cavern, and the game is over."
There were so many awesome games in this round of Heritage Auctions, and as someone looking to get into the Disney collectible games market, this would be a nice start. Again, this ends today, depending on when you read this pretty soon too. At $360, for sure in striking distance to have this at a really great price. Click here to check it out, and the other auctions are ending today as well.

Affiliates of Bleeding Cool buy from and/or consign to Heritage Auctions.