Dragon Ball Super Card Game Announces Next Expansion: Cross Spirits
Bandai has announced the next Dragon Ball Super Card Game expansion. Cross Spirits will be released in August 2021 as the fourteenth main expansion and the first set under the subtitle Unison Warrior Series BOOST. Let's get into the details.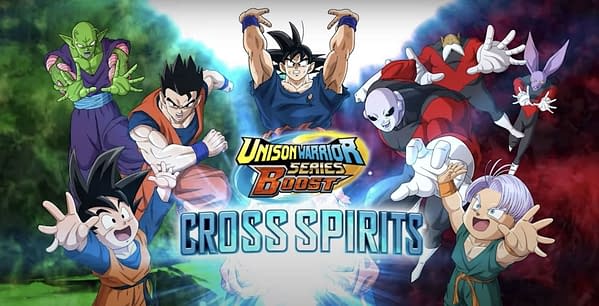 Bandai released details of Dragon Ball Super Card Game: Cross Spirits on their official YouTube channel. You can watch it right here. There's a lot that we were able to glean about the set from the video, so let's break down what we've learned.
The BOOST mechanic first appears in the Saiyan Boost and Namekian Boost expansion packs set to be released next week. Starting with the Cross Spirits expansion, BOOST will be added as a sub-sub title to the current Unison Warrior Series subtitle. The Unison Warrior Series began with the tenth expansion, Rise of the Unison Warrior, and is expected to continue into further sets with this revised title, Unision Warrior Series BOOST.
292 cards in total. This included standard cards and their parallel foils, so the set numbering on the cards will be smaller than this.
Characters confirmed to be featured are Piccolo, Gohan (training for the Tournament of Power), Goten, Trunks, Goku charging up a Spirit Bomb, Jiren, SS4 Goku, SS4 Vegeta, SS4 Gogeta Xeno, Great Saiyaman (both Gohan and Videl in costume), Hirudegarn, Tapion, Super Buu, Android 17, Android 18, Frieza, Babidi, Dr. Gero, and more.
Syn Shenron Xeno gets a special feature.
SPRs (Special Rares) are getting a redesign. The video pictures them as looking sparkly with the gold foil texture still present. To my eye, they look quite a bit like the original textured cards from the Mighty Heroes Expansion Deck Box 01 which featured SSB Goku, Vegeta, and Vegito.
Dragon Ball Super Card Game booster boxes will continue to receive box toppers. As with the previous set, Supreme Rivalry, box toppers for Cross Spirits will be an SR or an SPR from the set rather than a promo.
Premium Packs will be released that include four packs and promo cards.
Two new Dragon Ball Super Starter Decks will be released with Cross Spirits, with the Pride of the Saiyans Starter Deck featuring SSB Vegeta as a leader and the Darkness Reborn Starter Deck which is the first-ever "reboot" starter deck.
Pre-release exclusive promos will feature Shenron and SSG Goku.