Eight Games Revealed for Xbox Game Pass in April
Today, Xbox revealed the next set of games making their way into Xbox Game Pass, and the month of April is looking pretty stacked as you'll be able to play eight different titles starting next week. The full lineup that you'll be getting is Robocraft Infinity, Cities: Skylines, theHunter: Call of the Wild, Kingdom: New Lands, Portal Knights, Clustertruck, Sacred Citadel, and Late Shift. The one major stipulation to all of this is that Robocraft Infinity won't go live until the game is released on April 11th. You can read all about the games at this link, while we have a full description from Xbox for Robocraft Infinity below.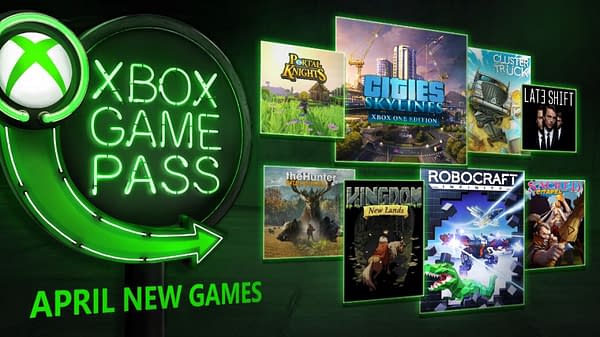 In Robocraft Infinity you are free to create, confront and destroy robots in Battle Arena or Team Deathmatch mode. Beat up on AI to polish your skills and then take on other players, leveraging a healthy mix of jet cars, tanks, flying warships, helicopters, drones, dinosaurs, scorpions to find victory – your options to build are virtually endless and no two battles are ever the same. But your robot alone won't lead you to victory – it takes close-knit team play and quick reflexes to succeed in the arena.

With over 250 build components at launch and more set to be added for free in the future, Robocraft Infinity will continue to evolve right alongside your skills and tales from battle. What's more, Robocraft Infinity is Xbox One X Enhanced, with superior 60fps framerate and stunning 4K visuals. We can't wait for you to enjoy Robocraft Infinity on April 11. Here's a few words from developer Freejam Games on bringing Robocraft Infinity to Xbox Game Pass:

"When Microsoft approached us to put Robocraft Infinity into Xbox Game Pass and thus open it up to entirely new audiences on Xbox at launch that may otherwise not experience the game, we jumped at the opportunity" explained producer Luis Dellinger of Freejam Games– an independent game developer, founded in February 2013.

"We've designed Infinity from the ground-up to be the best Robocraft experience available on any platform," adds producer, Luis Dellinger. Robocraft released as a public alpha in 2013, at the time functioning little more than a tech demo – fast-forward to today, and Robocraft has over 13 million registered players worldwide on PC.