Frontier Developments released a brand-new trailer showing off the second chapter to Elite Dangerous: Beyond, along with a new set of updates for the game. We have a snippet of the updates below, which were revealed on Steam. You can download the update for free right now. No date was given as to when we'd see the second chapter of the game, but by the looks of the trailer, things are looking a little dire as you have to deal with some new looming threats.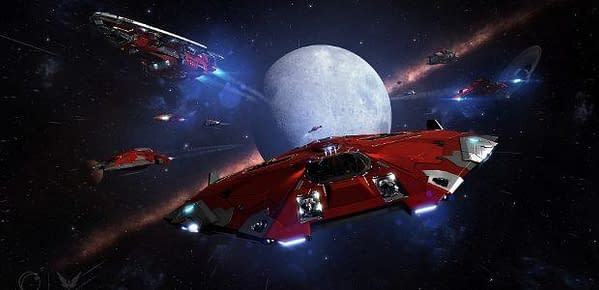 Content

Missions and Scenarios

Added new wing mining missions
Added new high threat USS's, and missions that can direct players to them

Megaship and Installation Interactions

Added existing megaship interactions to installations
Added Escape Hatch interaction points to damaged megaships

Crime and Punishment

Players can now hand themselves in to security contacts, if they have outstanding bounties, and a zero notoriety rating. Players that hand themselves in will pay off the bounty and be deported to the nearest detention center
Relaxed the friendly fire thresholds against NPC ships, to lower the amount of erroneous crimes being handed out
Notoriety now decays whilst the player is docked
Players current notoriety level displayed in cockpit will no longer be potentially out of date
Relaxed the rules for Multicrew gunners so that they are less prone to accidental assault/reckless weapon discharge crimes

Horizons-only Content

Weapons

New weapons now available at applicable Tech Brokers:
Large Plasma Shock Cannon (Fixed, Gimbal, Turret)
Large Guardian Shard Cannon (Fixed, Turret)
Large Guardian Plasma Launcher (Fixed, Turret)

Modules

The Guardian FSD booster is once again available at the Guardian Tech Broker, now with improved fuel efficiency

Ships

Alliance Challenger – a medium sized ship, based on the Alliance Chieftain, that boasts a generous compliment of hard-points, whilst retaining the Chieftains characteristic agility. It also has stronger armour.
Krait Mk.II – a medium sized, multi-role ship, that trades defensive capability for speed, fire-power and maneuverability. The Krait Mk.II has space for two crew members and is capable of carrying a fighter bay

Narrative

New planetary sites added, with audio logs

Fixes and Improvements

Art

Fixed some missing effects on Guardian Artifacts

Audio

Fixed audio cutting out in supercruise near neutron stars

Background Simulation

Fixed war missions incorrectly offering influence rewards (influence during a war state has no actual effect)
Ensure that faction effects are the same from selling exploration data for pages as well as individual star systems, and balance those faction effects to have roughly the same galactic impact as before this release

Controls & Control Devices

Prevented Flight Assist from automatically re-enabling after exiting Supercruise

Engineers

Fixed an issue with fading text in the Engineers Cost help window

General Fixes & Tweaks

Numerous performance optimisations for hangars
Resolved some minor typos
Fixed some cut off text in material descriptions
Local news top 5 bounty list should ignore breaking characters from ship names
Fixed situations where 'Last main sequence star' info message can appear incorrectly
General stability fix for incorrectly replicated data between players

Holo-Me Creator

Fixed an issue that prevented players from saving their avatar with the Frontier Expo suit equipped

Installations/POIs/USSs

Implemented a maximum scan time multiplier to prevent excessively long scans on large Mega Ships and Installations
Fixed an underground destructible panel at a Guardian Structure

Missions

Removed the timed element from assassination missions, so that targets are no longer limited to spawning within a time window. Players can scan the systems local nav beacon to find the targets location.
Fixed Mentor missions showing incorrect reward choice upon completion
Raised pay-out rate for Elite Rank Mining Missions
Updated Salvage missions so that factions cannot be duplicated as both giver and target
Updated the mission timer for Massacre Thargoid Wing Missions so it matches the non-Wing variant of this mission
Fix wing mission rewards from trade missions to award trade rank to multicrew crew members as well as the helm
Colonia factions have started issuing mission tip offs for the region

NPCs

Ramming a guardian sentinel will no longer give you a bounty

Outfitting

Fixed long description texts for experimental modules not appearing properly under the "Read More" section in Outfitting
Enjoyed this article? Share it!