One of the first major esports competitions for Valorant has been set up as ESPN will broadcast the Valorant Invitational on April 20th. The announcement was made on ESPN Esports' Twitter account, in what's being called "the most ambitious crossover in esports history." Considering the game is still in open beta and Riot Games hasn't set up any kind of esports system for the game, you may be wondering how this is already happening. The parties involved will be getting esports teams from other genres to compete against each other in what is probably one of the few times you'll see this happen outside of a charity stream, all to be broadcast live on Twitch. Those seven other games are: CS:GO, Fortnite, League Of Legends, PUBG, Rainbow Six Siege, Apex Legends, Overwatch, and a team, of Valorant developers. As of the time we're writing this article, none of the team members have been announced for anyone. Nor has anyone revealed how they'll go about telling anyone how those people are being chosen. We're guessing it will basically come down to popularity and influence on everyone's roster. We have the details below from ESPN Esports' own announcement.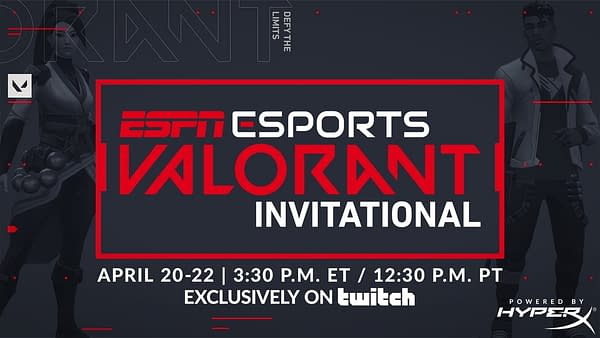 "Thus far, Valorant has not been heavily reliant on ultimate usage and stacking like Overwatch or (despite being a MOBA and not an FPS game) Riot's signature game, League of Legends, where teamfights require specific ultimate timing, placement, and coordination. Perhaps this will change in the future as players continue to learn the game, but the core nature of Valorant is focused on comparatively slower gunplay, especially since, like CounterStrike: Global Offensive, there are no respawns. Valorant is team-focused and you need strong communication and coordination, but call-outs are rotation- and location-based more than the timing of ultimates.
Basic team compositions at high-level play on streams and recent tournaments have generally followed this basic setup: at least one vision-based agent in Cypher or Sova (occasionally both), Sage, Brimstone, Breach/Phoenix, Raze. Most commonly, this ends up in something like Cypher/Brimstone/Breach/Sage/Raze. This gives a team vision, healing, several other supportive abilities to break onto a site like flashbangs and smoke bombs, and dueling power. Other considerations include gun economy and meta. This overview will be agent-focused, but gun economy is also an important part of Valorant meta, especially during specific rounds."
Enjoyed this article? Share it!