Evil Dead: The Game Launches New Splatter Royale Mode
Evil Dead: The Game has a new mode you can dive into as Splatter Royale brings all of the mess of the game with a new chaotic challenge.
---
Saber Interactive and Boss Team Games revealed a new mode for Evil Dead: The Game as they launched Splatter Royale this week. The mode lets you pick Deadite versions of any Survivors and Demons from the game, which includes DLC characters and outfits, as you will have to be quick on your feet and to the punch with weapons in a match where it's the last person standing who will win it all. Essentially, a battle royale where killing people in the most gruesome ways possible is the way to go. You can fight up to 40 players in a single game and be able to take them all out with two new bonus weapons, as they have introduced the long-range grenade launcher and the scythe. Plus, you can get Pablo's "Kandarian Facelift" Outfit for free. We got more info on the mode below, as well as all of the additions to the game you can get in this update, and a trailer showing it off.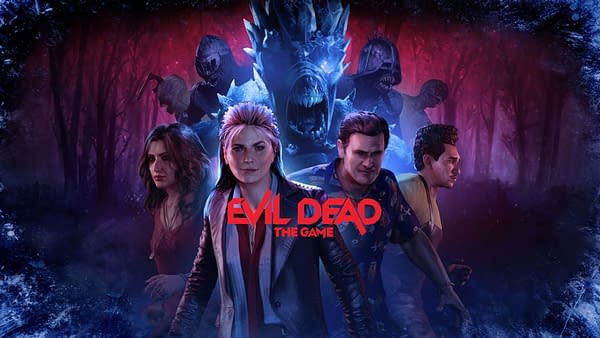 "Separate from the release of the Splatter Royale mode, players can make their victory all the more spectacular with the new Immortal Power DLC Bundle, available today for $9.99 and featuring a variety of in-game bonuses, including:
New Survivor: Ruby Knowby

Ruby is voiced by the legendary Lucy Lawless, reprising her mysterious role from the STARZ series "Ash vs

Evil

Dead

."
As a Dark One, Ruby can regenerate health, increase her possession resistance, and boost the damage of her weapons. She can also consume souls to make her aura stronger and charge her unique ability, triggering a deadly blast that damages

evil

units within range and heals nearby Survivors.

Kelly "Scourge of

Evil

" Outfit
Pablo "Fish n' Chips" Outfit
Ash vs

Evil

Dead

"Party Animal" Outfit
Puppeteer Demon Class "King of the White Frost" Outfit"