Exploring the Depths in Beyond Blue at PAX East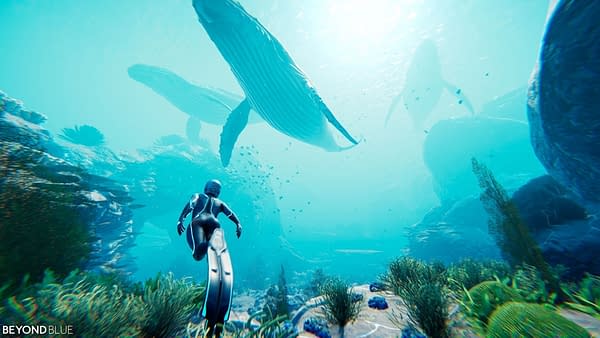 E-Line Media's Beyond Blue is an underwater exploration game set in the near future, allowing players to experience the world below the surface without interruption (or any worries about air pressure, decompression limits, or heat loss). The player takes on the role of Mirai, the lead scientist on a research team using groundbreaking tech to experience the ocean in a more meaningful way.
The game features an engrossing narrative, exploration, and high-stakes decision-making to really put players in Mirai's shoes.
E-Line Media used the same process for developing Beyond Blue that was used to create the BAFTA award-winning Never Alone (Kisima Ingitchuna). To that end, the development team paired with some of the world's leading ocean experts to craft an experience that reflects the awesome wonder and unbounded mystery of the oceans.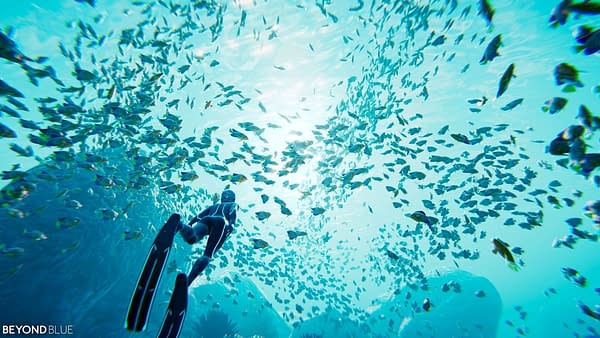 As someone who moonlights as a Scuba Instructor in her spare time, Beyond Blue has always had a special place in my heart ever since it was announced during E3 last year. E-Line Media has done a fantastic job of capturing the spirit and feeling of being underwater.
Unlike previous demos of the game I've played, the PAX East 2019 demo build was brighter and smoother than ever. While that isn't always the case while you're diving, it does make for a far more welcoming experience for the average gamer. In fact, Beyond Blue reflects an underwater world more colorful than you'd typically experience. Sure, those bright reds, yellows, greens, and purples still exist in the real world, but they're muted thanks to light absorption in the water. So without heavy massive lights, you'd never see so many colors on a normal dive. Nor would you find so many of the ocean's larger denizens hanging around a shallow reef. But that's the beauty of video games.
Needless to say, I'm still wholeheartedly looking forward to Beyond Blue's release later this year on PC and console.