Fall Guys Season 2 Heads To Medieval Times Starting Today
Devolver Digital revealed today the finer details of Season 2 for Fall Guys, as they get medieval on everyone with a new theme. Starting today, players will be running and jumping for their lives in a new set of gear and challenges as you'll have to deal with "knockabout knights, pugilistic paladins, and vivacious Vikings" in a Medieval-themes season. This will include a new set of Rounds, costumes, emotes, and much more content as the Middle Ages comes alive to dash your dreams. Basically, your only saving grace is the fact that Season 1 was a training period and now Season 2 will be the true test of grit as you do it in a dragon costume. You can read more about the additions to the season here along with a trailer, as you can play the update today!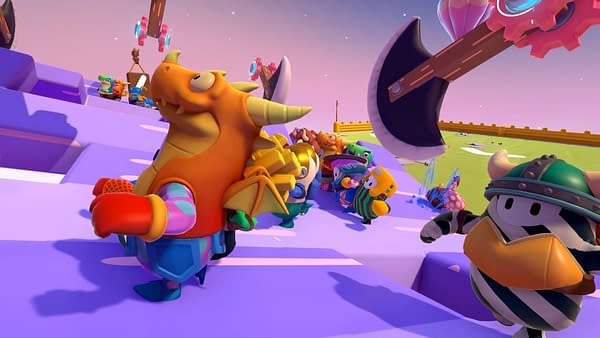 The all-new Show Selector collects a carefully selected roster of shows, including some extra special limited-time events. Each show features a themed playlist of Rounds to suit different playstyles, such as Gauntlet and Survival Showdowns. Last, but certainly not least, existing Rounds have all been given a fresh lick of paint. It turns out hosting millions of shows takes its toll on our classic courses, so it was time to give them a little TLC.

4 new Medieval Rounds enter the rotation (with more on the way soon).
Hoopsie Legends – Teamwork (sometimes) makes the dream work.
Knight Fever – Our most challenging Gauntlet yet.
Egg Siege – Tactical scrambling action.
Wall

Guys

– Build it up, tear it down.
A full Season Pass of new costumes, emotes and more.
A fresh new Featured store schedule for the duration of the season.
A suite of new features, including a Show Selector.