Fighting Crime While Building A Corrupt Pension In 'This Is The Police'
Lats summer we got this game from THQ Nordic on PC, but it kinda got swept under the rug as there was growing tension throughout the country over police problems in specific cities. Kind of hard to promote a game about cop corruption when the real thing is happening on your TV every day in the news. So it didn't quite get it's proper due from reviewers. That's probably going to change as the game has just hit consoles this week, so we're going to take a proper look at This Is The Police.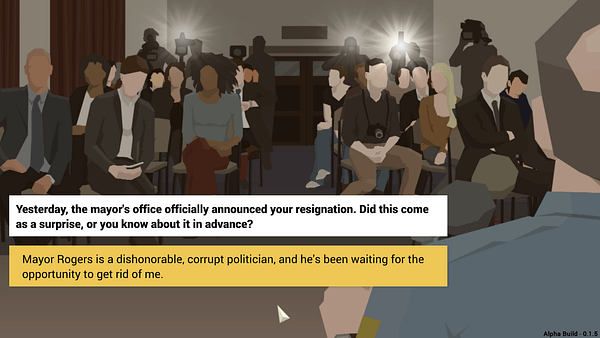 You are a 60-year-old police captain who is essentially being forced into retirement. It couldn't have come at a worse time, too. Your deputy has been caught with ties to the mafia, the corrupt mayor just wants some peace and quiet for the next six months until you're out of office, your wife left you for a 30-year-old, and your pension sucks. Oh, by the way, you're not the cleanest cop on the force either. In your last 180 days in office, it's your job to continue running the force as you see fit, which includes collecting money for your pension to the tune of $500k. All without getting caught or making life worse for yourself.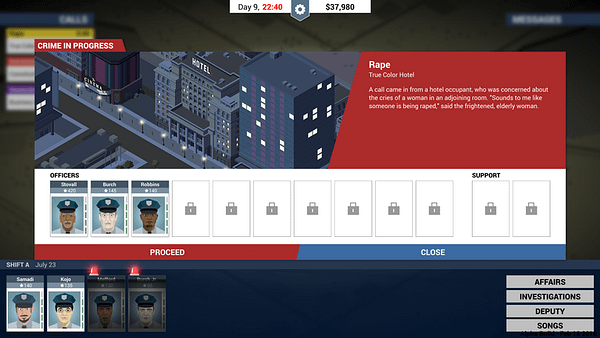 This Is The Police is an interesting mix of noir, simulator and story adventure. After a lengthy intro about like as a cop, you start with a press conference where you choose your responses. You then get to operate your force from your office using two different shifts of officers. You can hire and fire people, trade shifts, and better manage your officers depending on their skills. During the day you'll monitor activity in the city and get calls on the radio of new problems. You choose who to send to respond, which will either end up in an arrest or the suspect fleeing. You have the option to send SWAT if necessary, and detectives handle cases that the cops couldn't or didn't get to until it was too late.
The management system is kinda lengthy but necessary as there's a lot to process. If you handle things correctly, it will go well for you. Handle them poorly and it will affect how much longer you get to run things. You can even get officers killed in the line of duty if you make the wrong choices when handling a situation. Other times you'll be asked to supply an officer for an event, which will net you a little kickback if you send the right people. Send the wrong ones or mess up a situation, and people could quit on you or point the finger your way.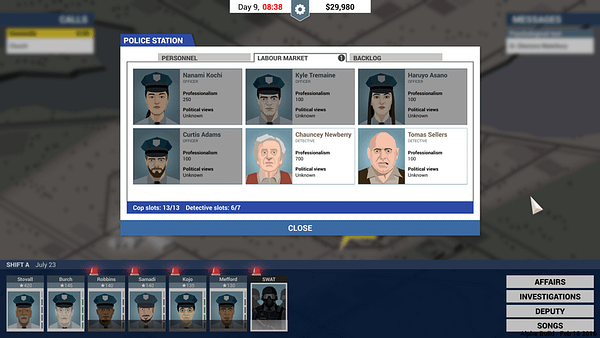 As the story develops you'll see headlines in the paper of news happening in the town and be given exposition to events that may come up in the future. It's up to you if you want to dip your toes in the water to see what will happen. Or maybe you just don't care and will take the plunge cleaning up the city and see what happens. Your fate is up to you, but always remember, you're on a time-frame you can't control. It forces you to make decisions for better and worse, and no two scenarios play out the same because of all the variables involved, which makes the gameplay so intriguing.
The two areas that make the game a pain in the ass are the detective work and all the text. First off, reading some of the text on the screen is a challenge because some of the descriptions of things go one forever. The text is made much smaller than a normal game font would be, and you end up squinting a lot to see what you're supposed to do. As for the detectives, they try to piece together the crime for you, but it's up to you to figure out the truth, and sometimes the truth makes no sense at all. You'll arrange photos in a specific order to determine what happened, but on occasion, the correct line of photos don't really tell the story, so you're left feeling even more confused than you were before.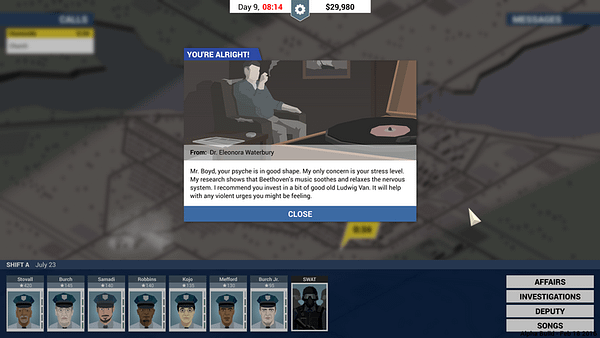 Overall, This Is The Police is pretty fun. The entire story of this guy's life is what makes the game worthwhile, as you feel a sense of pride and selfishness in both doing your job and making the best nest egg you can. There's some pretty cool twists for you and the force depending on how you play the game, and there's some cool features that add to the experience. You even get to choose your own jazz record to play in the background of your office as you work. I highly recommend snagging the game and playing through it at least once for fun, and then a second time as either totally honest or completely corrupt. Also, kudos to the PS4 design for utilizing the speaker on the controller, it added a nice touch!