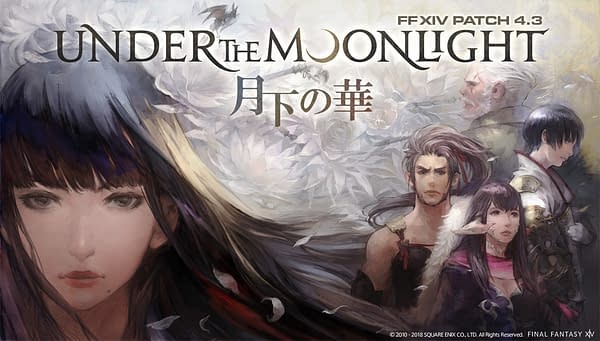 Square Enix released a whole bunch of new screenshots for Final Fantasy XIV's patch 4.3 "Under the Moonlight" which show moments from the new main scenario quests, some dungeon and raid stills, as well as new emotes and changes to the glamour dresser.
Alongside these new screenshots is a handy introduction to the new full Alliance raid, which gives us the Ridorana Lighthouse from Final Fantasy Tactics, so if you didn't play Tactics or can't remember the lighthouse, here's a quick rundown. At least of the version that's making it to Final Fantasy XIV, that is:
"South of Rabanastre, in a remote corner of the Valnard Sea gapes a fathomless maw that, for centuries, has been slowly devouring Hydaelyn herself─Ridorana. Many claim this magnificent cataract to be the very gate to the Hell of Water, as none who have braved the trip over the edge have returned to tell their tale. On the fringe totters a wind-blasted isle home to a crumbling spire once used by the Dalmascans as a lighthouse to warn sailors of the nearby peril. It is into this lighthouse that the transformed Ba'Gamnan has fled. It is into this hell that you must follow."
Also coming with the new patch is the ability to host cross-world linkshells, so you can chat with players on other servers without needing to be in a party with them. Oh, and the ability to return equipment used in the glamour dresser, plus a housing guestbook so you can see how has dropped by your house while you were away.
You can check out all the screenshots below. If you want to learn more about the update, which will hit in May, you might want to check out the full details here or on the patch's dedicated mini site. In addition, Square Enix are currently running a fan design contest for the game. You can find out more about that here.
The new screenshots are below.
Enjoyed this article? Share it!