Fortnite's Next Party Royale Will Take Place On June 25
Epic Games announced this morning they are throwing another Party Royale in Fortnite after the success of the one they threw in March. If you recall the last time they did this it had a major impact on the game's attendance and became one of their biggest events to date. it even beat out some of their season-changing events which have become must-attend ventures for the entire playerbase. If you haven't seen these before, this is basically a concert that the developers throw into the game to get people together to have some fun. It's especially been a motivating tool to get people to come together and just enjoy some music as their characters chill and dance and have an in-game experience you don't really get anywhere else. This time around the three performers who will be entertaining everyone is Diplo, Young Thug, and Noah Cyrus.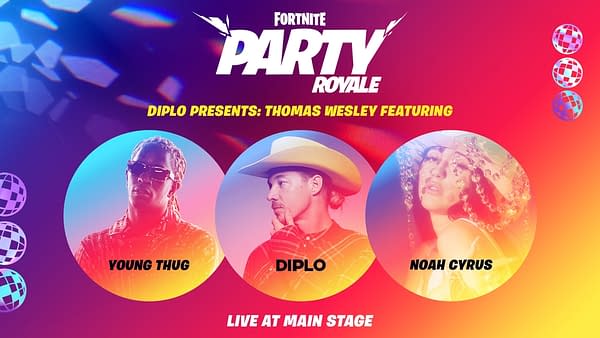 As far as what they got planned for the Fortnite audience, that's anyone's guess. The last event in March featured Dillon Francis, Steve Aoki, and DeadMau5, which you can see an entire video of below as they entertained a crowd with a mix of music and spectacle. It was kind of interactive, kind of musical, kind of weirdly spiritual for some. People on social media were raving it was just what they needed as COVID-19 was forcing cities to go into lockdown while it was happening. So it's cool to see players enjoy themselves and find a little relief in these trying times. We'll see what the next event holds on June 25th at 6pm PDT, which will have a replay happen on June 29th.