Free League Publishing's Crusader Kings Does Let You Murder Your Own Kids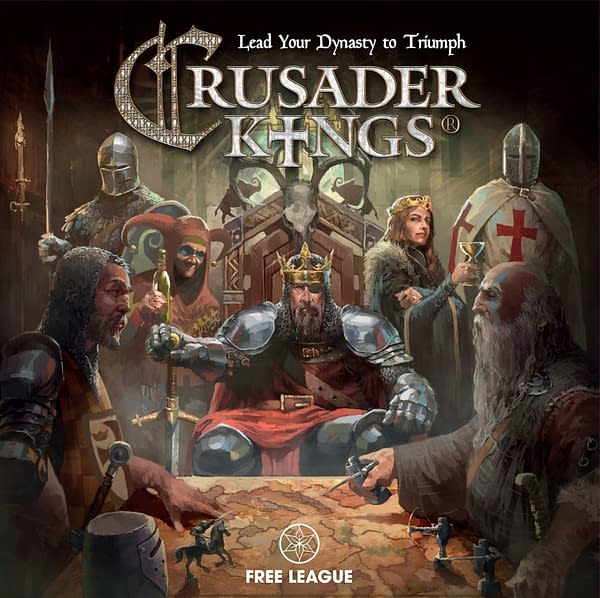 Free League Publishing, best known for their pen and paper RPG Tales of the Loop and Mutant Year Zero, are lending their talents to Paradox Interactive's Crusader Kings IP to bring it to life as a board game. The project was announced today at PDXCON, to coincide with the launch of the Kickstarter campaign. Crusader Kings – The Boardgame will be playable with 3-5 people, and each round should be about two to two and a half hours.
Crusader Kings – The Board Game is designed to capture the essence of the Crusader Kings video game, just in a physical tabletop format. In keeping with that, it is a strategy game at heart, but there is a definite focus on characters, intrigue, and drama. The game is centered on a map of medieval Europe (mostly the Western half of the continent), and uses cards for actions, characters, and events alongside 70 plastic miniatures of approximately 30 mm height.
The goal of the game is to spread your influence over Europe and lead your dynasty to triumph over its rivals. You'll groom your family over the course of three generations. Each generation is split between three rounds, with each round comprising of two turns for each player. Therefore – 6 turns, and the generation moves on.
While much of the strategy is focused on military conflict and intrigue with your fellow players, once per Generation you must partake in a campaign of the Crusades.
The game ends when the first player enters Jerusalem, or all three generations have come to an end – whichever comes first. Victory conditions are decided on the number of victory points you have, which can be generated by controlling the most territories, having completed the most Crusade campaigns, having the most gold, and having piety trait coins.
Playing the game at PDXCON, despite it still being in raw playtesting phases, was thoroughly enjoyable. Aspects of the game are still raw – how you can defend against an enemy invasion is still rather unclear – but it does show evidence of some thorough playtesting. After all, you can't break it by continually spamming the crusades, a strategy that I was eager to try at first. The PDXCON build of the game was still something of a prototype – the minis were rough and some were missing, and the cards needed some slight redesigning – but it did give a great idea of what the game will look like once it ships. And damn, does it look like it'll be fantasitc.
The board is well designed, and rather minimalist for having to account for so many mechanics, and much of the Crusader Kings gameplay has been simplified for the tabletop format. However, it does bear a pretty closer resemblance to its namesake. Sure, it's not a direct 1:1 port, but it does do a fantastic job of capturing the CK spirit.
And that's about all need to know at this stage of development.