Funstock Retro Announces Series of Plug-and-Play Retro Arcade Games
Recapturing the glory of early '80s arcades is the retro game industry's biggest goal. Funstock Retro is trying to bring that experience to a TV near you with plug-and-play arcade sticks.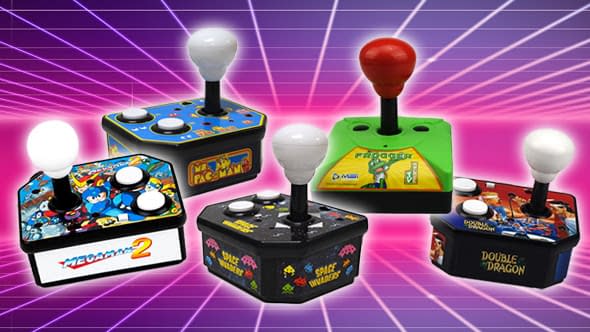 The '80s were great for arcades for a few specific reasons: hard costs were down while processing power was up, which led to games that invaded mainstream culture in a way games haven't totally managed since. This is why retro games have such a hold on us even in 2018. Thus, Funstock's new line.
Each unit is emblazoned with officially licensed artwork, giving them a colourful retro look that will take you right back to those backlit marquees of yesterday. The full range includes Space Invaders, Mega Man 2, Frogger, Double Dragon, and Ms. Pac-Man. Yes, Mega Man 2 was a home console game and not an arcade one, but it works with the joystick, so we'll go with it.
The units have an AV cable that plugs directly into your TV, setup is instantaneous, and each version features classic arcade controls specific to the game. The units are being distributed by PQube, though production and development was handled by Funstock.
Andy Pearson, Head of Marketing – PQube, says of the games:
"This new range of retro plug and play consoles includes some of the most well known arcade favourites of all time, including Space Invaders, Frogger, Double Dragon and Ms.Pac Man, along with home console classic Mega Man 2! It's a range that PQube are proud to be distributing and a range that will continue to grow – there's some exciting titles coming on the horizon!"
Features include:
Plugs directly into AV ports on your TV (cable included)
Original Classic Arcade Controls – Joystick and two buttons
Features Original Licensed Game Artwork
Measures 4.4" L x 8.5" W x 9.6" H
A range of classic arcade titles to choose from