For those of you who need to take your console with you, GAMES has announced that the Guardian Pro XP will launch in North America. These cases are basically a reinforced Haliburton for your either your PS4 or Xbox One with a built-in monitor and several ways to stream live or capture from the deck. And it's TSA friendly which is a nice bonus. Now the company has revealed it will his shelves in North America soon for the price tag of $700. You can read more from the announcement this morning, including the specs below.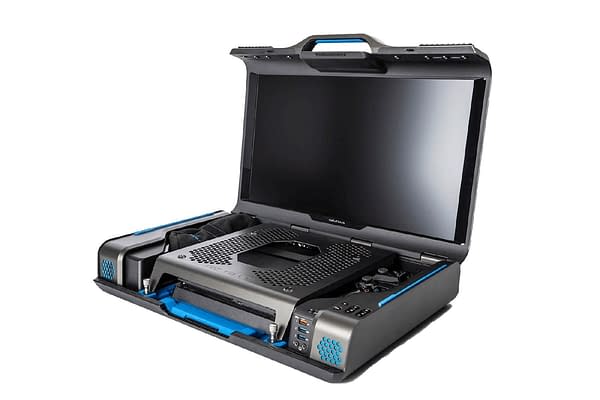 "The Guardian is the result of listening closely to what gamers were asking for," says John Smith, co-founder of GAEMS. "The gaming community continues to evolve, and there are more professional and serious gamers out there who don't want to lose income when they leave the house. Most importantly, they want their devices to be as safe as possible and completely flexible to suit their specific needs."

Key specs for Guardian Pro XP include:

Patented industrial-grade hard-shell case with proprietary metal-hinged design 24" Quad HD IPS panel Proprietary Dynamic SoundStageTM with 12W power amp, chambered 9W speakers, passive subwoofers and Surround Processor Integrated Media Center with HDMI 1.4 Input, 3.5 Headphone Jack, High Speed USB Hub Port (from console power) to 3x USB Ports (1x USB 3.0@1.8A & 2x USB 3.0@0.9A) duplicating console functions and providing passive power for charging while Guardian is Off External rear HDMI Output for streaming and sharing monitor content Patented Picatinny Rail mounting system for cameras, microphones, lighting and other equipment used for professional streaming (accessories sold separately) HDMI 1.4 cable AC 100v-240v/DC, 19V, 4.74 Amp Power adapter Product Dimensions (inches) – 23.45" w x 16.9" d x 4.79" h Compatibility: Xbox One S, Xbox One X, PlayStation 4 Pro, PlayStation 4, PlayStation 4 Slim & fits some Micro ATX PC hardware
Enjoyed this article? Share it!