Galarian Slowpoke & Slowbro Are Live In Pokémon GO
Three new variants of iconic Pokémon arrive today in the new Pokémon GO event, A Very Slow Discovery. Let's get into the details.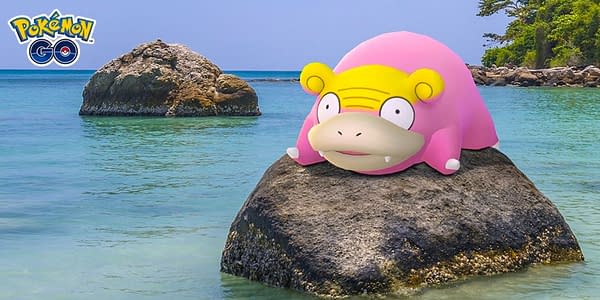 Galarian Slowpoke: This new, region-specific variant of Slowpoke was first introduced in Sword & Sheild. It arrives today in Pokémon GO and can be encountered in Tier One raids. The difference between the original Kanto Slowpoke and Galarian Slowpoke is a bit more subtle than previous Galarian forms. Visually, Galarian Slowpoke's forehead, ears, and tail turn yellow. As far as practica changes, the Galarian form loses the dual typing and turns to a pure Psychic-type.
Galarian Slowbro: Starting with the event, you will be able to evolve Galarian Slowpoke into Galarian Slowbro. This variant of Slowbro takes on a new dual typing of Poison/Psychic. Niantic has already given instructions on how to do this in Pokémon GO. They wrote:

"You can evolve it into Galarian Slowbro by catching 30 Poison-type Pokémon when it's your buddy. We've heard reports that Galarian Slowking is taking its time to make its Pokémon GO appearance. You could even say its arrival might be quite…slow."

Mega Slowbro: Starting with the event, Mega Slowbro will replace Mega Lopunny as the featured Mega Raid. This will not only enable you to raid to earn Slowbro Mega Energy in Pokémon GO but will also make Slowbro encounters Shiny-capable. Slowbro is one of the event's featured wild spawns, so be sure to get out there looking for it if you're interested in getting a Shiny Slowbro. You can check Bleeding Cool today for a complete Mega Slowbro Raid Guide that will help you build a team of counters to take down this raid boss. Overall, your best bets are going to be Electric-types to take advantage of its weakness as a Water-type and Dark- or Ghost-types to take advantage of its weakness as a Psychic-type.