Genesis Mini: Ghouls n' Ghosts, Golden Axe, Street Fighter II Revealed
The third round of SEGA Genesis Mini games has been announced, and the latest set of games brings in gems like Ghouls n' Ghosts, Golden Axe, and Street Fighter II.
SEGA are revealing the full Genesis Mini library in batches of ten, with 40 games total releasing with the system.
This batch of games includes:
Beyond Oasis
Ghouls n' Ghosts
Alex Kidd in the Enchanted Castle
Golden Axe
Phantasy Star IV
Street Fighter II
Mega Man: The Wiley Wars
Sonic! Spinball
Vectorman
Wonder Boy in Monster World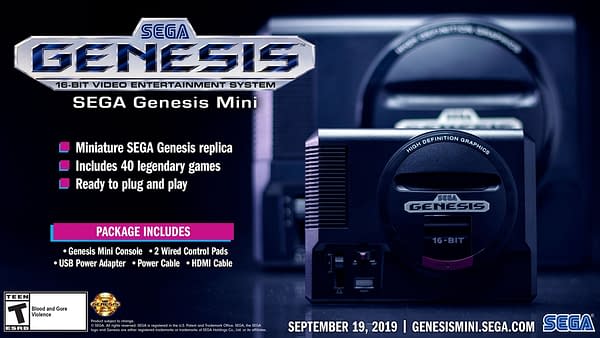 The first group of games announced for the Genesis Mini included the original Sonic the Hedgehog, Ecco the Dolphin, and Castlevania: Bloodlines. The second group of ten games added titles like Earthworm Jim, Sonic the Hedgehog II, and Contra: Hard Corps. With this group of ten, we've hit 30 of the 40 full launch games for the Genesis Mini, and the library looks pretty damn good so far.
The SEGA Genesis Mini will release on September 19,2019.
The full lineup of Genesis classics releasing with the retro-system, at least, the lineup we know so far, includes:
Sonic the Hedgehog
Ecco the Dolphin
Castlevania: Bloodlines
Space Harrier 2
Shining Force
Dr. Robotnik's Mean Bean Machine
ToeJam & Earl
Comix Zone
Altered Beast
Gunstar Heroes
Earthworm Jim
Sonic the Hedgehog 2
Castle of Illusion Starring Mickey Mouse
World of Illusion Starring Mickey Mouse and Donald Duck
Contra: Hard Corps
Thunder Force III
Super Fantasy Zone
Shinobi III: Return of the Ninja Master
Streets of Rage 2
Landstalker
Beyond Oasis
Ghouls n' Ghosts
Alex Kidd in the Enchanted Castle
Golden Axe
Phantasy Star IV
Street Fighter II
Mega Man: The Wiley Wars
Sonic! Spinball
Vectorman
Wonder Boy in Monster World