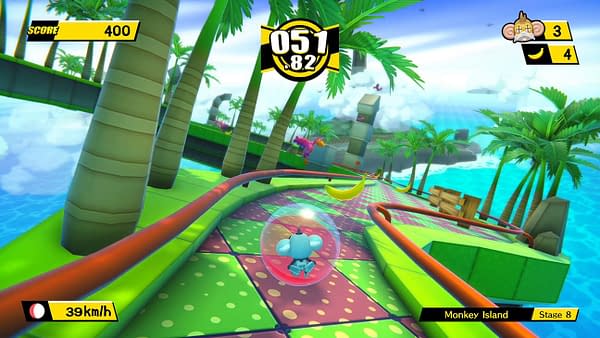 If you're not doing anything right now except monkeying around, consider checking out this launch trailer. Super Monkey Ball: Banana Blitz HD is out today for consoles, and it's headed to PC on Steam this winter.
This fun remake is an update port of the 2006 Wii title Super Monkey Ball: Banana Blitz. It's got updated graphics, better controls, and a new mini-game Decathlon mode where you can complete 10 mini-games in a row. There's a lot here beyond the standard "tilt to move" Monkey Ball stages, actually.
It's a bright, energetic riff on the classic Monkey Ball action you've probably grown to love. And I've got to be honest, after playing through it for review, it's much more fun without the motion controls. There's also a fun surprise waiting for Sega fans in the form of a character unlock: Sonic the Hedgehog. Who hasn't wanted Sonic to zip around Super Monkey Ball stages, grabbing golden rings? Basically everyone, duh!
So if you need a break between all the heavier titles released and still to come in the next few weeks, this throwback Sega title should get you together. All you really need to know about it is that you're a monkey trapped in a ball. Grab a bunch bananas. Have a blast. That's seriously the gist of it.
Have you already picked it up? Let us know how it's been treating you, and stand by for an official review from yours truly this week.
Enjoyed this article? Share it!