Harmonix & NCSOFT Put Their Latest Game FUSER Up For Pre-Order
NCSOFT and Harmonix have put their latest game FUSER up for pre-order as you can now become one of the greatest festival DJs of all time. We got to check out the game a short time ago as it blends elements of Rock Band and Dropmix together into a DJ experience where you control the music to get the crowd raving. The short version is you are an up-and-coming DJ trying to make it big, and you've been given your break at a festival stage. Swapping out tunes from famous musicians, singers, and bands, you'll craft a show that will get the crowd bumpin' and make you the next big thing. You can read more about it below and check out a sampling of some of the music you'll have to work with, along with the latest trailer for the game, which is set to come out sometime in Fall 2020.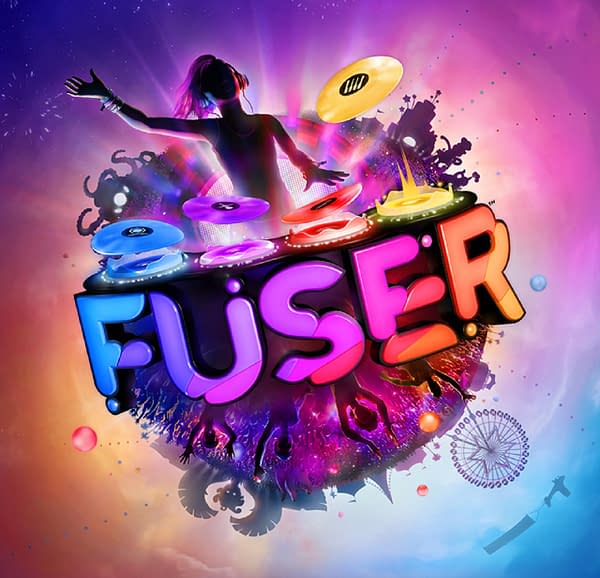 FUSER is the ultimate celebration of music festival culture, putting players on stage at the world's largest digital music festival and allowing them to create their own custom music mixes from the component parts of over 100+ songs, no peripheral required. Developed by Harmonix Music Systems, the creators of Rock Band, and Dance Central; and published by NCSOFT, FUSER will empower players to live out their DJ fantasies from their own home on Xbox One, PlayStation 4, Nintendo Switch, and Windows PC. So far, 34 of the game's 100+ song soundtrack has been announced.
50 Cent "In Da Club"
Armin van Buuren "Blah Blah Blah"
Billie Eilish "bad guy"
Blue Öyster Cult "(Don't Fear) The Reaper"
Brad Paisley "Mud On The Tires"
Cardi B "Bodak Yellow"
Carly Rae Jepsen "Call Me Maybe"
The Chainsmokers ft. Daya "Don't Let Me Down"
The Clash "Rock the Casbah"
Coldplay "Clocks" DMX "X Gon' Give It to Ya"
Dua Lipa "Don't Start Now"
Fatboy Slim "The Rockafeller Skank"
Grand Master Melle Mel "The Message (2012)"
Imagine Dragons "Thunder"
J. Balvin & Willy William "Mi Gente"
Jonas Brothers "Sucker"
Lady Gaga "Born This Way"
Lil Nas X ft. Billy Ray Cyrus "Old Town Road (Remix)"
Lizzo "Good As Hell"
LMFAO ft. Lauren Bennett & GoonRock "Party Rock Anthem"
Macklemore & Ryan Lewis ft. Wanz "Thrift Shop"
Meghan Trainor "Me Too"
Migos "Stir Fry"
Nelly "Hot In Herre"
Panic! At The Disco "High Hopes"
Pitbull ft. Ne-Yo, Afrojack & Nayer "Give Me Everything"
Post Malone "Better Now"
Sia ft. Sean Paul "Cheap Thrills"
Smash Mouth "All Star"
Twenty One Pilots "Stressed Out"
Warren G & Nate Dogg "Regulate"
Whitney Houston "I Wanna Dance With Somebody (Who Loves Me)"
Zedd, Maren Morris & Grey "The Middle"