Hellcard Confirmed For Steam Release In Mid-February
Skystone Games has finally nailed a release date for Hellcard as players will be able to snag it on February 16th on Steam.
---
Skystone Games and Thing Trunk revealed they finally have a release date for Hellcard, as it will be released mid-February on Steam. The team has had the game out in Early Access for a while now, giving players a chance to try out this cooperative deck builder rogue-like game within the Book Of Demons universe. But up until now, you've only been able to experience a limited amount of the potential paper dungeons that await. However, the full version of the game will be coming out on February 16th, 2023. Enjoy the latest trailer below as we'll see the game on Steam in a few weeks.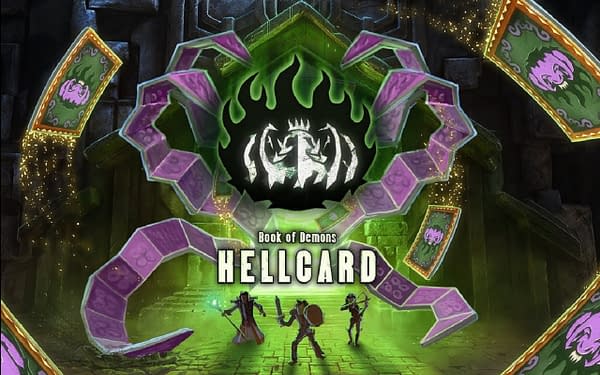 "Sharing the same "Paperverse" as Book Of Demons, Hellcard is a cooperative roguelike deck builder with both single-player and Multiplayer modes. In multiplayer, up to three players take simultaneous turns and use the position of the monsters and teammates to their advantage to conquer the harrowing challenges of the dungeon. Players can also descend into the paper dungeons on their own, recruit computer-controlled companions and take part in fast-paced tactical card battles against the armies of darkness and the Archdemon himself."
"What makes Hellcard unique and different from other card games? In the battles, monster placement actually matters and can be used to your advantage if you're up to the strategic challenge. Your team of heroes has its own strengths and weaknesses, each with an ever-growing deck of abilities and equipment to use on the battlefield. It will take the hardiest of champions to withstand the evil hordes and defeat the Archdemon. Hellcard supports co-op battles with up to three heroes facing Archdemon's hordes. In single-player mode, you can descend into the dungeons solo or recruit computer-controlled companions. In multiplayer mode, your friends or strangers can help you battle the hordes of hell."