Heritage Auctions Now Accepting Slabbed Retro Video Games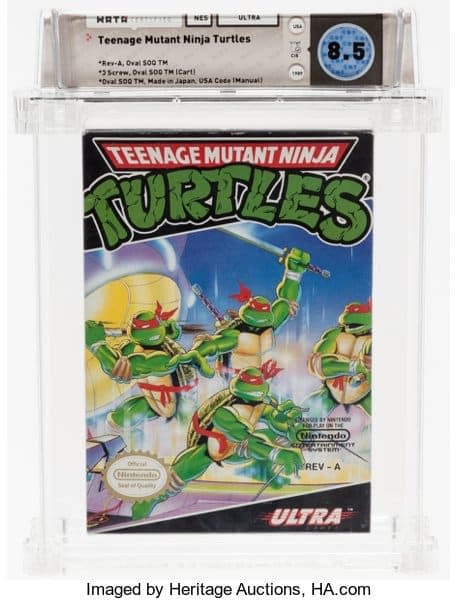 If you've ever wondered whether your vintage video games could be worth something, Heritage Auctions is now accepting "slabbed" video games as part of their collection.
And yes, there are more games up for bidding than just the original Teenage Mutant Ninja Turtles game for the NES/ Famicom system.
The games seem to all be from the NES era, though there's little to indicate that other console games wouldn't be welcome to the auction in the future. Which is a major win for all vintage game collectors looking to make some serious bank off their game vaults. Heritage Auctions host everything from first print comics to Tiffany glass lamps. They're the largest collectibles auctioneer and the third largest auction house worldwide. So they've got some proper street cred.
While the game collection at Heritage is rather small as of press time, featuring only 6 video games, the inclusion of games to the auction house's stable is a big win for game collectors. Prior to this, the biggest auction house for vintage games was Ebay. Which doesn't come with the kind of pedigree and authentification process as Heritage boasts.
The current collection includes:
Gyromite, NES 1985
Popeye, NES 1986
Rad Racer, NES 1987
Teenage Mutant Ninja Turtles, NES 1989
Battletoads, NES 1991
Super Metroid, NES 1994
All the NES games above will go to auction on January 7th.