Cool news for Super Smash Bros. Ultimate players as Nintendo has brought back the Home Run Contest mode to the game in a new update. The mode came with the latest 5.0 patch to the game that was released this week, and was very quietly added tot he game after the Nintendo Direct video. In fact, blink and you would have missed director Masahiro Sakurai talking about it during the Banjo-Kazooie video. For those of you who have never played it, this is basically a chance to see who is the best at racking up damage in the shortest amount of time against a punching bag who can take it. Best of luck to those of you in four-player facing off against button mashers. You can get the mode right now just by updating Super Smash Bros. Ultimate.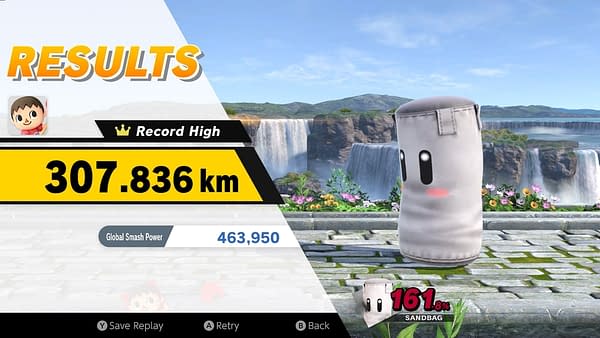 See how far you can send Sandbag flying in this minigame. You'll have ten seconds to do as much damage as you can, then hit it with a side smash to send it soaring! Two players can work together, and up to four players can take turns competing to send it the greatest distance. Players will receive in-game rewards based on their performance. Themed Event Tourneys will also be held periodically.
Enjoyed this article? Share it!