[rwp-review-recap id="0"]
Terroir is a tycoon simulation game based around the concept of being a winemaker. Your goal is to grow your business and turn it into an alcoholic empire. You do this by starting off with a small but modest winery where you will decide what kind of grapes you wish to grow, harvest, ferment, and bottle for consumption. The game puts you in a bit of a hexagon shaped world where you will buy land for specific purposes and turn them into what you need to create your bottled masterpieces.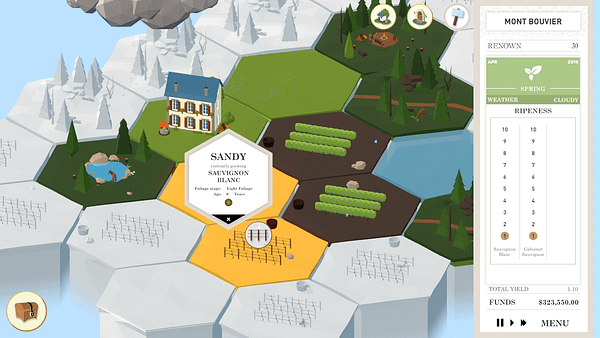 Like any sim game, you'll need to do a lot of work in order to get to the winemaking process. You'll plant grapes, tend to them, harvest when they ripen, and then choose what they'll be turned into. Within your Chateau, you'll have a basement where several wines are being fermented, which you'll have to gauge and determine when the best time to bring them out would be. Not every bottle turns out good, and sometimes you'll end up discarding what you create because it's just a bad wine. Once you have a wine you'll organize a tasting to see how well it does, and if it meets the approval of the people you ask, you can sell it to distributors and make a profit.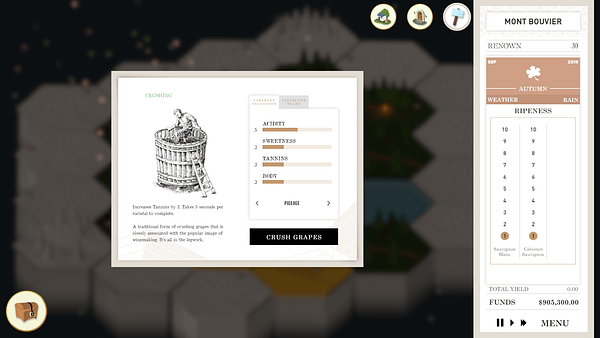 You'll be doing this cycle several times over in order to expand your business. Getting more land, expanding your grapes, building and upgrading your Chateau, and getting higher-ranked wine testers to come give you a rating are all essential to growing your business. If you fail to do this, you will flounder and it becomes an uphill battle from there to get anything finished. In fact, if you fail to make it to a certain level in the game and kind of plateau out, you'll be stuck there and forced to start over because there's no other way to get higher.
Terroir is a cool and simplistic simulator, but it doesn't have a ton of depth to it. Basically, the game is what we just described to you, repeated 30 times over. There are little nuances here and there that you'll need to account for, such as how you crush the grapes or what price you can get for specific vintages, but the game is very much a process where you do all these steps in a row and repeat. It makes for a good sim, but not so much a lengthy experience.
[rwp-review-ratings id="0"]
[rwp-review-form id="0"]
Enjoyed this article? Share it!