Is Call of Duty 2019 Modern Warfare 4 or a Modern Warfare Reboot?
Several former Infinity War developers who worked on the Modern Warfare franchise have returned to the studio ahead of the reveal for 2019's entry in the massive Call of Duty franchise. While we do know there's a new COD coming, many hints have indicated that the game will be a new Modern Warfare title, with most (ourselves included) assuming the game will be Modern Warfare 4.
At this point, it seems obvious that Infinity Ward is working on something in the Modern Warfare franchise, but that could mean a lot of things. After all, since there are returning MW vets coming back to Infinity Ward's dev team, it's possible we aren't getting a sequel, but instead, a reboot.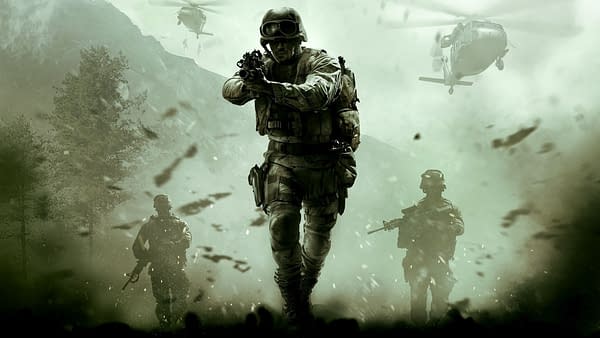 As GameSpot reports:
We obviously can't make a definitive confirmation off this evidence, but we now have another clue that the Call of Duty game that Infinity Ward is working on for release in 2019 is Modern Warfare 4. At the very least, the studio seems to be working on something Modern Warfare related.

The LinkedIn profiles for at least five former Infinity Ward developers show they are back with the Modern Warfare studio. Each of them has a history with the Modern Warfare series. Infinity Ward animation director Mark Grigsby worked on the first two Modern Warfare games, as did game designer Alex Roycewicz, multiplayer design director Geoff Smith, and studio art director Joel Emslie. Infinity Ward founder Zied Rieke–who left the company after working on all three Modern Warfare games–has returned as gameplay director.

All five men have had lasting impacts on Call of Duty. Grigsby helped define Call of Duty's weapons, even creating the popular knife melee attack in Modern Warfare. Both Roycewicz and Smith designed some of the franchise's most memorable multiplayer maps, such as Modern Warfare's Overgrown and Wetwork. Emslie designed some of the more noteworthy characters and items in Call of Duty, such as Ghost and the ghillie suit. Rieke had a huge effect, being the one responsible for designing the original team deathmatch spawn logic in the first Call of Duty and the flashing regenerating health system in Call of Duty 2–both of which continued to be implemented in and influence many Call of Duty titles.
Now, its entirely possible we're getting Modern Warfare 4, or possibly just a remaster of Modern Warfare 2. Or a series reboot. We honestly don't know.
The only ones who can tell us are a group of college football players.